5 Best Laptops under 35000 in India
This the time when students head out to colleges and start their studies, if you are one of those then you must have a doubt in your mind as to which laptop you should buy that will satisfy your educational as well as entertainment needs. This is a very confusing topic as the specifications change as the requirements change, but you don't have to worry anymore as we will be handling that confusion in this article. We will be covering all the best laptops under 35000 Rs in India 2018.
The laptops available in the market that suit the needs of students are plenty, but as times change so does the performance of the components, this means that older generation components aren't as good as the newer generation ones, but still, they sell cheaper due to their old age, which means you will get attracted to the lower price, but you should not as they will not satisfy your requirements. Stay tuned till the end and we will help you choose the best laptops for students under 35000 Rs.
How did we prepare the list of Top 5 Best Laptops under 35000 Rs?
The process of shortlisting the best laptops under 35000 was a very elaborate one. We had to cater to all needs of the student like apart from handling educational applications the laptop should have a good screen for movies, or editing needs the best laptop with i5 processor and 8GB RAM, and we also have entries that qualify as best laptop under 35000 for gaming.
We will be ranking the Top 5 Best Laptops under 35000 available in the market right now so that your search list is narrowed down to only 5 options. Here we can assure you, our lists are accurate to the best of our knowledge and you will definitely find the perfect laptop from our lists that fit your budget and your requirements. We pride ourselves on our Best Pick lists because of the amazing response from our readers, as you can see from this comment left by one of our readers-
Here are the Top 5 Best Laptops under 35000 Rs in India
Acer Aspire 5 A515-51
UNIQUENESS/FACTS
The Acer Aspire 5 A515-51 is the only Laptop in our list which features an 8th Gen i5 processor Making it the best laptop under 35000 with i5 processor.
HIGHLIGHTS
i5 8250U Quad-Core Processor
15.6″ FHD Display
4 GB RAM and 1 TB SATA HDD
48 Wh Battery
The Acer A515-51 has a great CPU and beautiful display but it lacks in RAM, the RAM is the main hindrance in this overall outstanding laptop. Read our full detailed list of its pros and cons to better understand its features.
PROS
The Acer Aspire features an i5 8250U processor which is very capable on its own. It is a low power consuming CPU which can handle many tasks and threads simultaneously. 4K videos are also doable on this laptop and the processor can handle those easily.
The FHD resolution display is very nice and crisp. The menus and screen options are very sharp thanks to the Full HD resolution. The display is bright enough for most people, though it might seem dim under sunlight.
The Keyboard is full sized and backlit and is tactile enough. There are plenty of input options on the Acer A515-51, there are 2 USB 2.0 ports and one USB 3.0 port. Interestingly it also sports a USB 3.1 port which is a nice addition to a budget laptop.
The Storage HDD and RAM are easily accessible so that you can swap them with ease. This is especially helpful considering that the 4 GB of RAM is not enough and you will need to add more.
CONS
The 4 GB of RAM on the Acer A515-51 is adequate but holds back the true potential of the i5-8250U. The booting times are slower and Chrome browsing feels sluggish.
The viewing angles are not perfect and vertical viewing angles are very less, so you will have to adjust yourself in order to get a good view.
The build quality is not that great but given the price, this is an acceptable flaw. But we still think that Acer could have gone with a more stable build and design factor than this.
Last update was on: January 20, 2020 2:53 pm
back to menu ↑
Asus X541UV-DM977T
UNIQUENESS/FACTS
The Asus X541UV features a dedicated GPU from nVidia, the 940 MX, which is the best budget GPU you can get in a laptop under 35000 in India.
HIGHLIGHTS
i3 7100U Quad Thread Processor
15.6″ FHD Display
4 GB RAM and 1 TB SATA HDD
36 Wh Battery
The Asus X541UV is the most budget oriented laptop even in this highly budget focussed list. It gives you a great spec sheet for a very good price which does come at a compromise. Read further to find out what is missing in the X541UV.
PROS
The Asus X541 sports a decent build and design given its price. The body is made of plastic but you can't expect premium and shockproof casing at such a modest price.
The X541 sports an i3 7th Gen Processor and a 940MX GPU, this budget combo is enough for light editing works and gaming. The 940MX can handle modern titles but at low settings due to the 1080p resolution. If you lower the resolution you will get better performance.
The X541UV sports a very tactile keyboard which is full size. The keys are individually registered and you don't have to worry about accidental presses. The X541 also sports a hoard of input option like USB 3.1 and 3.0 ports as well as an SD Card Reader.
The Audio quality of the X541UV is great for indoor listening purposes. The sound is clear crisp and gives a surround effect. This type of clarity in vocals and tunes is perfect for movies.
CONS
The battery is just average on the X541UV. It will last for up to 4 hours on moderate usage and even lesser on heavy usage. This is due to a smaller battery pack present on it.
The display is not that color accurate due to its anti-glare display panel. This anti-glare panel also causes viewing angle issues which are not enough in this laptop. You will notice inaccurate color reproduction at different angles.
Last update was on: January 20, 2020 2:53 pm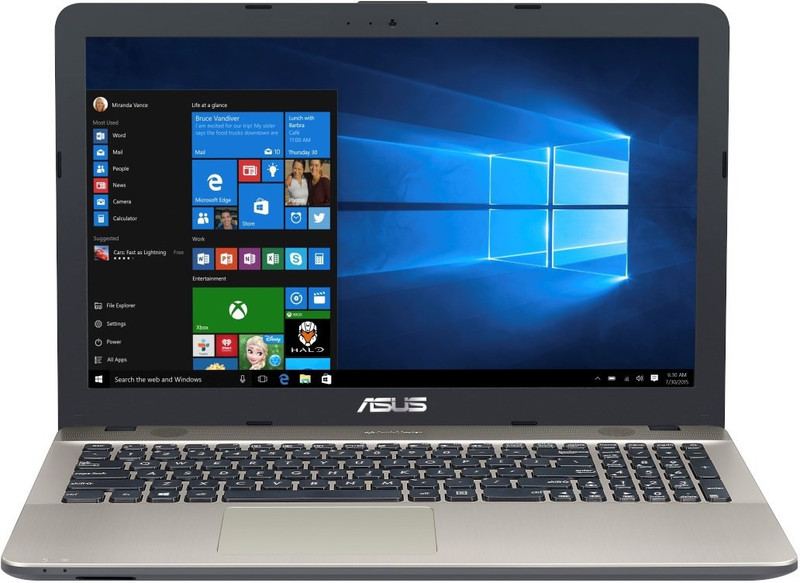 Usually Delivered in 7 - 8 days.
ASUS VivoBook Max Series laptops are designed to give you a truly immersive multimedia experience. Powered by latest 7th-generation Intel® Core™ processor, gaming-grade NVIDIA® ...
10% off* with Axis Bank Buzz Credit Card
Buy Today
Flipkart
out of stock
Last update was on: January 20, 2020 2:53 pm
back to menu ↑
HP 15-BW500AX
UNIQUENESS/FACTS
The HP 15-BW500AX sports and AMD APU A-10 which has integrated graphics that offer better performance in terms of raw computing. This makes it one of the best laptops under 35000 for editing and gaming.
HIGHLIGHTS
AMD A10 Quad Core APU
15.6″ FHD Display
4 GB RAM and 2 TB SATA HDD
41 Wh Battery
The HP 15-BW500AX is a decent performer when it comes to built and performance. It is hindered by its poor thermal and more. Read further to find out in detail about its strengths and weak points.
PROS
The AMD A10 APU is a decent performer in terms of editing and browsing and even light gaming. The A10 outperforms the i3 line of processors and even i5s in terms of onboard graphics.
The HP 15 comes with a higher capacity HDD of 2 TB. This is great for students who store all their backups and projects on their laptops and don't have an external HDD. If you still need more storage then you can choose from here- Best External HDD in India.
The build quality of the HP 15 is very good considering its price. This design option is very aesthetic and will be admired by many although it comes at a thermal flaw.
The HP 15 is very light considering the hardware it packs. The 1.6 Kg chassis is greatly managed to feel light and does not have weight concentrated points.
CONS
The battery is below average due to a lot of power draw from the source. The AMD A10 APU may be a powerhouse but it is also a huge drain on the battery. This makes the battery last lesser than most Intel Laptops.
The AMD A10 APU causes a thermal problem too. The A10 gets hot under load and this is not managed properly by the design factor of the HP15 causing hot spots on the laptop's body.
Last update was on: January 20, 2020 2:53 pm
back to menu ↑
Dell Inspiron 3565
UNIQUENESS/FACTS
The Dell Inspiron features a 45 Wh 4 Cell Battery setup which gives over 5 hours of battery backup. This is very good for laptops under 35000 in India.
HIGHLIGHTS
AMD A9 APU Processor
15.6″ HD Display
8 GB RAM and 1 TB SATA HDD
45 Wh Battery
The Dell Inspiron 3565 is an impressive entry in our list as it packs a powerful battery and ample RAM, but it lacks in processing and computing prowess. Read our full opinion about its pros and cons below.
PROS
The Inspiron 3565 sports 8 GB of DDR4 RAM which is more than sufficient for browsing and heavy multitasking. The Inspiron will easily handle all educational apps with a lot of RAM left to spare.
The battery on the Inspiron 3565 is very impressive given its price range. You can squeeze up to 8 hours on light usage which is perfect for traveling purposes.
The MaxxAudio Pro speakers on the Inspiron 3565 offer crisp audio that is adequate for an immersive movie-watching experience. This is because it focuses more on vocals and instrumentals rather than an overall balanced sound output.
CONS
The Inspiron 3565 features an AMD A9 APU which is sub-par performance wise. This processor is ok for daily basic tasks but not too good to edit or render videos and run apps simultaneously.
The Inspiron 3565 is very heavy given the hardware it packs isn't much. At over 2.3 Kgs you will definitely feel its heft when you carry it.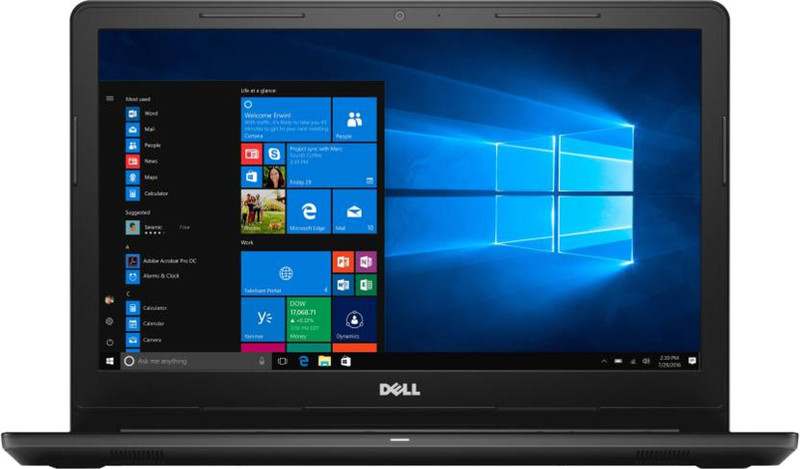 Usually Delivered in 7 - 8 days.
No Cost EMI on Bajaj Finserv EMI Card
Upto ₹10,000 off on Exchange o
10% off* with Axis Bank Buzz Credit Card
Buy Today
Flipkart
out of stock
Last update was on: January 20, 2020 2:53 pm
back to menu ↑
Lenovo G50-45
UNIQUENESS/FACTS
The Lenovo G50-45 is the lightest entry in our list of best laptops under 35000 Rs for students. This makes it the perfect travel buddy.
HIGHLIGHTS
AMD A8 APU 6th Gen
15.6″ HD Display
8 GB RAM and 1 TB
32 Wh Battery
The Lenovo G50-45 is by far the lightest in its class but it gives up on battery packs to offer this kind of portability. Read our detailed pros and cons of this laptop to understand more.
PROS
The Lenovo G50-45 has a very bright and vibrant display. This makes the colors pop and offers a great viewing experience even though the resolution is not Full HD. This laptop is great for outdoor viewing as you will find the display to be more readable than most.
The Lenovo G50-45 has a very slim and portable design and the weight is managed perfectly making this a very light device to carry around. This is great for travel as long as you have a charging socket near you.
The Lenovo G50-45 has 8 GB of RAM which like the Inspiron 3565 is greatly managed so that you always have ample free RAM for multitasking and opening multiple tabs in chrome. This means you can do RAM focussed editing work on this laptop.
CONS
The Battery Backup of the Lenovo G50-45 is very poor and you will have trouble working for long hours. The bright display and AMD APU are a heavy drain on the 32 Wh battery pack. So you should always carry its charger around if you need to work for longer periods.
The AMD A8 APU is a bit old and might not be the best choice for this year but it still will be able to do all modern tasks except for smooth gaming. If you want to game and edit then this is not the laptop for you.
Last update was on: January 20, 2020 2:53 pm
So this was our list of Top 5 Best Laptops Under 35000 Rs in India.
How much do you like the post " Best Laptops to buy below Rs 35000 2020"?
We hope You would find our post helpful, either Yes or No, share your thought in the comment box as we love your comment. Also, be in touch to firstly know about our next upcoming post-
Also, If we have missed a favorite resource of yours, please add it below in the comments. We love looking up new avenues of inspiration from you.
And Don't forget to share the topic 'Top 5 best laptops under 35000′ on social networking site because this might be helpful to other.
Also, If you are looking for other high-quality Tech reviews or list of best gadgets then google it like "best phones under 10000 topbestof" or "best earphones under 1000 topbestof", "Honor Magic 2 topbestof" or in general "what you want + topbestof".
Other Handpicked Articles