5 Best VR Headsets Under 1500 in India
Are you looking for a VR Headset under 1500 rupees that fit your phone and your requirements while also being in your budget?
Then this is the right page for you as we are going to help you choose exactly what you need, not more nor less, just the perfect one. We make sure our information is up to date and correct to the best of our knowledge. Our lists have been appreciated by our users and you too can trust our efforts to help you find the best VR headset under 1500 so that you too can indulge in the IMAX Cinema like experience and motion-sensing gaming. Here is a token of appreciation left by one of our readers-
We will be discussing top VR Headsets below Rs 1500 and break down each one for you to choose easily.
The specifications mentioned on the paper/box tells only half the story, but the further half is covered by us, that is User Experience
How did we prepare our list of Best VR headsets under 1500 Rs?
Picking out the best VR Headset is a difficult task, as we have to keep in mind Lens type, viewing quality, controls, and user-friendly design. We reviewed the latest best VR headsets under 1500 that offer most of these features. We carefully pick out the best ones and rate them according to real-world performance. Which is why our readers appreciate our efforts.
Still confused or not able to decide? Leave a comment and we will be sure to reply and try to answer your queries.
5 Best VR Headsets Under 1500 in India
IRUSU PlayVR
UNIQUENESS/FACTS
Optimised for Google Cardboard Apps
Lenses block Electromagnetic Waves so that vision is safe
The IRUSU PlayVR is an upgraded variant with a 42mm Lens. The Lens used is HD-Optical Resin with 8-Layer nano-coating. This prevents visual fatigue and ensures loss less reproduction of 3D images. IRUSU is a start-up brand and this makes it strive for customer satisfaction. It has provided optimisations for Google Cardboard Apps. The PlayVR has adjustable object distance and pupil distance so that you can suit your viewing style. The headset can be used by people who wear corrective lenses for short-sightedness without having to worry about their glasses getting in the way.
The only problem with the PlayVR is the weight of the headset, it has so many hardware add-ons and features that make it a heavy headset and can be annoying while long usage hours. But nonetheless, the company offers premium build quality in a budget and brings the VR experience to you at a great price, making it rank top in our list of Top 5 best VR headsets under 1500 Rs. We tested it with the Asus Zenfone Pro Max M1 and it fit in with ease.
HIGHLIGHTS
42mm vacuum-ion plated HD resin lens
Pupil and Object distance adjustment
Magnetic Clip and Bluetooth Remote
43 Element Lens with Military Grade build quality
Last update was on: April 4, 2020 1:38 am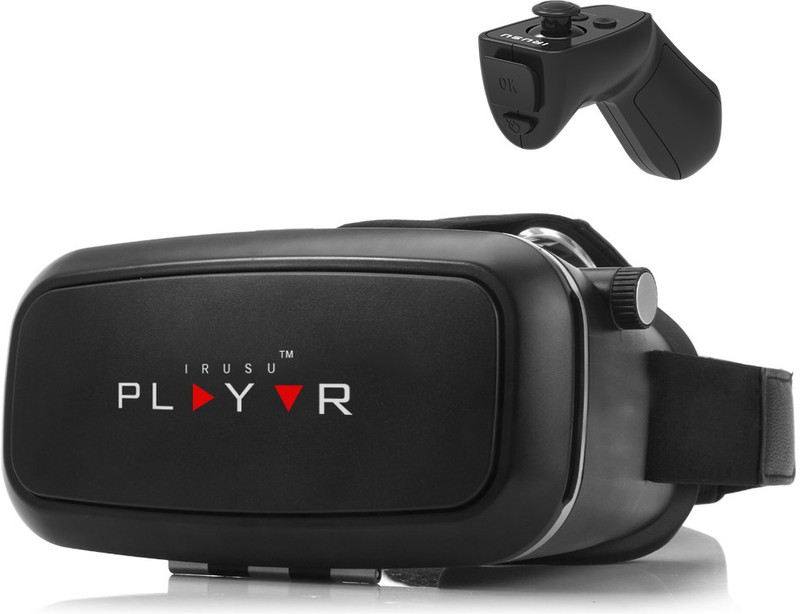 Usually Delivered in 7 - 8 days.
ADVANCED PRODUCTION TECHNOLOGY: ONLY Headset in this category that is Optimized for Tons of Quality Google Cardboard Apps .Lenses made using vacuum ion plating refining, capable ...
Extra 5 % on select items
5% off on Visa Cards for COD, New users
Extra 5% off* with Axis Bank Buzz Credit Card
Buy Today
Flipkart
out of stock
Last update was on: April 4, 2020 4:56 am
back to menu ↑
Ocular Prime OC-01
UNIQUENESS/FACTS
Aspheric Optical Lens
Large FOV
The Ocular Prime is a lightweight champion and delivers fully immersive 3D viewing experience. Even though it's a light headset it doesn't compromise on quality and features. The Ocular Prime features a 42mm Aspheric Optical lens which offers expanded Field of View (FOV) over 100 degrees. The distortion proof lenses also ensure that the image reproduction isn't blurry. The front panel is removable to accommodate earphones. The heat dissipation is also great due to the airflow from the vents. The viewing angles are good given that you are watching from inside the box where there is not much room.
One thing that isn't good about the Ocular Prime is that due to being lightweight it has compromised in build quality. So it won't last as long as you may expect it to because of sub-par build quality. Overall the Ocular Prime VR headsets are a worthy addition to our list due to their lightweight ergonomic design and loaded features. We used it with the Redmi Note 5 Pro and didn't face any issues with it.
HIGHLIGHTS
42mm Aspheric Optical Lens
Elastic Head-Strap with 3 adjustment points
IMAX Cinema Effect
Distortion proof HD Lens
back to menu ↑
Pebble Matrix
UNIQUENESS/FACTS
Weighs only 320gm
43mm Military Grade Lens
The Pebble Matrix is a compact offering in the VR Headset segment and weighs 320gm only. The HD lens is 43mm military grade and offers 360 degrees viewing experience. The build quality is also on par with top contenders. The lens has an adjustable focus to suit the user viewing style. The Pebble matrix does not have much room for airflow, thus it runs a bit hot if you use for longer periods. Another problem with longer periods of usage is with the straps and foam. The foam and straps are not very comfortable to wear and aren't suitable for very long usage.
But still, the Pebble Matrix performs as it should and the brand offers a replacement warranty for 6 months too, making it a very great value for money product under rs 1500. We were able to fit our Vivo V9 easily in this headset.
HIGHLIGHTS
43mm Military Grade Lens
360-degree immersive viewing experience
ABS+PC Plastic Body
Adjustable Focus
Last update was on: April 4, 2020 1:38 am
back to menu ↑
Portronics POR-824 SAGA Pro
UNIQUENESS/FACTS
5mm Jack
3 Button layout to play/pause the video, take calls etc
In-Built Headphones
The Portronics POR-824 VR headsets are a pair of great headsets with some unique offerings. These headsets have in-built headphones so you don't need to plug your own through the front panel spaces. The headphones have an included mic so you can also take calls. There is a 3-Button Layout to control video and accept calls.
The POR-824 headsets are made of ABS plastic making it very sturdy and durable. The lenses aren't the best in class but still deliver solid performance. The biggest flaw here is the weight, weighing about 600gms this is the heaviest option on our list. The POR-824 are not very economic either and that's why rank 4th on our list of best VR headsets under 1500. Our Nokia 8 Sirocco fit perfectly in these headsets.
HIGHLIGHTS
In-built Headphones and 3.5mm jack
3-Button Setup to control video playback and calls.
40mm HD Lens
ABS Plastic Body
Last update was on: April 4, 2020 1:38 am
back to menu ↑
Zebronic ZEB-VR100
UNIQUENESS/FACTS
Removable Straps
Extra Soft Contact Pad
The Zebronic ZEB-VR100 headsets are very comfortable and offer removable straps for replacement in the future. They have a great FOV of over 102 degrees which suits most of the user audience. The weight of these headsets is also very less at 280gm but that's because it has an average quality Acrylic Lens. The ZEB-100VR headsets support motion-sensing games for mobile gaming enthusiasts. The smartphone compartment is very secure with a magnetic clutch and sponge cushion for extra protection.
The lens is the biggest setback though, as it does not deliver performance comparable to the top rankers in our list, but makes up for that in terms of comfort and protection. The build quality is not that bad considering the weight. The ZEB-VR100 made it to our list of best VR headsets under 1500 due to their economical pricing and good features and comfort. We had no issues fitting our Oppo F7 in these headsets.
HIGHLIGHTS
42mm Acrylic Lens
ABS Plastic Body
102 degrees FOV
Motion Sensing Game Support
Last update was on: April 4, 2020 1:38 am
Usually Delivered in 7 - 8 days.
Play VR games, watch moviesUltra-immersive motion sensing game experience42mm optical lensFocal length
15% Cashback* on payments through PhonePe
5% off on Visa Cards for COD, New users
Extra 5% off* with Axis Bank Buzz Credit Card
Buy Today
Flipkart
out of stock
Last update was on: April 4, 2020 4:56 am
How to prevent Eye Fatigue while using VR headsets?
While using VR headsets the screen is really close to our eyes and our pupil has to work constantly to adjust focus from one scene to another. Thus you should select the aspect ratio that suits your eyes. Also, you can switch from full-screen mode windowed to make the screen a bit further from your eyes. We advise to not use VR headsets for very long periods to avoid nausea and headache or serious eye problems.
What do you think about our list of 5 best VR Headsets under 1500 Rs in India?
We hope You would find our post 'top 5 VR headset to purchase below 1500' helpful, either Yes or No, share your thought in the comment box as we love your comment. Also, be in touch to firstly know about our next upcoming post-
Also, If we have missed a favorite resource of yours, please add it below in the comments. We love looking up new avenues of inspiration from you.
And Don't forget to share the topic 'Top 5 best budget VR headset in India below rupees 1500' on social networking site because this might be helpful to other.
Also, If you are looking for other high-quality Tech reviews or list of best gadgets then google it like "best phones under 10000 topbestof" or "best earphones under 1000 topbestof", "Realme 3i topbestof" or in general "what you want + topbestof".
Also, here is the video for you to know How To Setup & Use a VR Headset on android phone
Handpicked Relevant Topics