Best Smartwatches under 2000 in India – [Expert Pick]
Wearable technology and smartwatches have seen considerable growth in recent years thanks to Apple Watch, Samsung Gear and Fitbit.
More people are starting to embrace smartwatches these days and as a result, the demand has surged sharply. If you set out to buy a Smartwatches for yourself, then you are likely to commit a blunder as there are very misleading ads and descriptions that will definitely trick you into buying them. There are a lot of brands that sell Smartwatches and not all of them are worth the money they charge. But don't worry, you won't have to waste your time going through all the options, just read this article till the end and you will have your answer as to which is the Best fitness band under 2000 in India, 2020.
We will be ranking the Best Smartwatches under 2000 available in the market right now so that your search list is narrowed down. Here we can assure you, our lists are accurate to the best of our knowledge and you will definitely find the perfect device from our lists that fit your budget and your requirements.
Also take a look on – Best Smartwatches under 3000
Best Smartwatches under 2000 Rs in India
Lenovo Ego Smartwatch
Uniqueness
With a 20-day battery and 5ATM (50m underwater) water-resistant, this watch is the best fitness smartwatch in our list. This watch helps the user to attain every physical task that they want without any problem due to its superior build quality as a -"fitness smartwatch".
PROS:
The Lenovo Ego features a 42mm circular digital display. It fits onto your wrist and weighs just 45g. So, it doesn't feel like a burden on your wrist.
Lenovo Ego is a 5 ATM waterproof smartwatch that means you can jump right into the water without worrying about your watch.
Lenovo Ego Smartwatch features battery backup up to 20days if used without the live heart-rate monitor.
The battery back-up on this device is very good. If you are looking for something simple and smart, then this watch is the best for its price.
Lenovo Ego is one of the best smartwatches for Activity Tracking. It features running, walking, cycling etc. Those who are highly interested in physical activities should prefer this device due to the functionality it provides.
With Built-in sensors for Heart rate monitoring and real-time sleep counter, it provides you with the exact detail so you can easily focus on your health.
Extra button to turn on light in the night that enables you to see the display in the night without any problem. All the indications can be clearly seen on the screen in the night when the night light is turned on.
CONS:
The touchscreen is not available in this smartwatch. It is more of a digital smartwatch that lets you interact with the device by the buttons provided on the side of the dial.
back to menu ↑
Hoteon fitness watch
Uniqueness
Hoteon fitness watch is a stylish yet affordable smartwatch under 2000 which has a lot of noteworthy features. Packed with a 1.33″ display and as much as 8 sport modes, Hoteon is definitely a great option in this range.
HIGHLIGHTS
1.33″ LCD display
Bluetooth 4.0
Heart Rate monitor
IP67 waterproof
140mAh battery
8 watch faces
PROS:
Hoteon Smartwatch has a 1.33″ OLED full-colour display which is great in smartwatches under 2000. It comes with 8 different preloaded watch faces that look very attractive and blends to your style.
Hoteon smartwatch has a complete fitness tracker that can measure distance, count calories and time duration too. You get 8 different sports modes that cover all activities like cycling, running, climbing, skipping etc.
Hoteon smartwatch comes with a heart rate sensor that can count your heartbeat through the day. It's decently accurate and a special feature looking at the price of Hoteon smartwatch.
Hoteon smartwatch has a sleep monitor that tracks your sleep duration. This is a good feature for fitness conscious people who value sleep as much as diet. Hoteon smartwatch also comes with an alarm that vibrates the smartwatch which helps to wake you up at the right time.
Hoteon smartwatch displays call and message notifications. Although you can't accept or reject calls, it allows you to see who is calling and other app notifications like Whatsapp, Facebook on both Android and IOS.
Hoteon smartwatch has utility features like Find your phone, timer, stopwatch and task reminders. Find your phone especially comes handy when you have kept the phone on silent and can't find it around.
Hoteon smartwatch has a 140mAh battery with a backup of up to 4 days on regular usage and 10 days on standby. It gets charged up quickly in about an hour which is quite good in smartwatches under 2000.
CONS:
The display on Hoteon smartwatch is single-touch. We could have liked a multi-touch display although there are very few options with a multi-touch display in smartwatches under 2000 in India.
Hoteon smartwatch comes with a 3-month warranty which is quite low as compared to other smartwatches in this list.
out of stock
as of April 4, 2020 6:11 am
out of stock
as of April 4, 2020 6:11 am
back to menu ↑
Gizmore Gizfit Smartwatch
Uniqueness
Gizmore Gizfit *** is an affordable option in the list of the best android smartwatches under 2000 as it is the most inexpensive watch in this list. Although inexpensive, Gizmore is loaded with features and the watch has an IP67 waterproof rating which prevents this watch from damaging due to rain and splashes and you can swim worry-free while wearing this smartwatch.
HIGHLIGHTS
Full-colour IPS display
Calorie tracker
Dynamic HR sensor
Anti-Lost feature
180mAh battery
PROS:
Gizmore has a 1.2″ IPS display which produces vivid colours with a great blend of contrast. The full-colour display has a 240 PPI resolution which offers crisp and clear images and a wide viewing angle. Overall, the display of Gizmore is a delight to watch.
Gizmore has 26cm silicone strap that can fit all sizes of wrists. With a lot of holes on the strap, anyone can wear it comfortably. You also get an extra strap with the package which is a great addition since silicone straps tend to get damaged over time.
Gizmore offers calorie tracker, step tracker, heart monitor, blood oxygen level monitor along with the sports and fitness tracker. The sleep tracker and heart rate monitor are pretty accurate on this device although the step tracker is inaccurate at times. Just download FLAG FIT 2.0 app on IOS or Android and start tracking your fitness progress using Gizmore.
Gizmore comes with an HR sensor which helps it wake up when you shake your wrist. You can also click a photograph with a shake of your wrist which comes handy while taking a group photo. Answer calls with a shake of your wrist and reject calls by shaking it twice in quick succession using this smartwatch. This special feature makes Gizmore one of the best smartwatches under 3000 in India.
You can read Instagram, Facebook, Whatsapp, text messaging and other notification through Gizmore. Adding to that, Gizmore also has a special Anti-Lost feature that helps you track your smartphone. You don't need to panic anymore when you can't find your phone at home and it's on silent mode as your smartwatch will help you find it.
Gizmore comes with a decent 180mAh battery that can last a maximum of up to 10 days on moderate usage. You get 3 different user interfaces to switch between.
You get a 1-year manufacturing warranty which makes Gizmore a great option if you want an inexpensive smartwatch that gives value for money.
CONS:
Gizmore weighs at 85g and can feel a bit heavy while wearing it all day. If you are habitual of wearing a normal watch, it won't affect you much although other options in this list are much lightweight than this.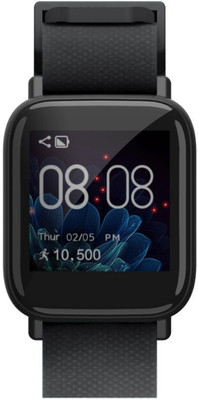 Rs. 2,399
Rs. 2,999
in stock
Flipkart
back to menu ↑
Noise Colorfit
Uniqueness
The Noise Colorfit comes with a Continuous heart rate, Oxygen level and Sleep monitor. Noise Colorfit *** also features multi-sports and is compatible with both Android and iOS. Under the price tag of 2000, Noise Colorfit is one of the best smartwatch under 2000 that you can get.
PROS:
The display on Noise Colorfit is 3.1cm LCD touchscreen which lets you check all your notifications and updates directly through it with ease.
Noise Colorfit has metallic square body design along with 2.5D curved glass that ensures it fits gently on the wrist of the user.
Noise Colorfit comes with detachable straps that let you pick and choose a strap of new colour every day. The straps are made up of silicon and can easily be attached or detached from the body.
Noise Colorfit is a waterproof (IP68) watch. So, whether it's raining outside or you want to go for a swim. You don't need to worry about removing your watch as it can withstand up to 1.5 meters deep of water for up to half an hour.
You can choose any image from your smartphone to set as Watch Face on your Noise Colorfit.
Noise Colorfit also features Walking meter that helps you get the exact information about how much you walked today.
Not only that, but Noise Colorfit also features Sleep Counter which helps you decide whether you are getting the right amount of sleep or not and Heart Rate Sensor that helps you check your heart rate to ensure whether you are fit or not.
The Noise Colorfit ensures that you don't need to check your phone now and then by providing all the notifications on it. You can check messages, calls and get all the alerts from your smartphone to this smartwatch.
Noise Colorfit is compatible with both Android and iOS devices which makes it a versatile smartwatch that can be used by anyone.
CONS:
The whole display is not a touchscreen, you need to use the dial provided to interact with the screen on this smartwatch. The company doesn't mention that they are using the dial to perform the tasks.
Battery backup is not as expected. The company claims around 7 days' battery life but when we tested it, Noise Colorfit goes around 4-5 days at full usage.
out of stock
as of April 4, 2020 6:11 am
out of stock
as of April 4, 2020 6:11 am
back to menu ↑
10.or Move
Uniqueness
10.or Move* smartwatch comes with IP68 dust and water-resistant rating, making it one of the most durable smartwatches under 2000 in India. With a minimalistic all-black stylish design and comfortable rubber straps, 10.or Move matches your daily outfit and gives a stylish look.
HIGHLIGHTS
1.3″ LCD full-touch colour display
IP68 water-resistant rating
5 watch faces
Camera shutter control
Compatible with Google Fit and Apple Health app
PROS:
1.3″ full-touch colour display on 10.or Move is bright and displays vivid colours. The display looks decently readable under bright outdoor conditions.
10.or Move has a multi-sports mode which tracks time duration and distance helping you track your progress during fitness activities like running, cycling and climbing. The step count on this watch is moderately accurate only but is reasonable at the price point.
10.or Move has a heart rate sensor which is decently accurate and gives very little errors as compared to more expensive smartwatches
10.or Move has a sleeping mode that tracks the sleep cycle. It tracks the total hours of sleep along with tracking deep and light sleep through which you can study your sleeping hours easily.
10.or Move has a sedentary reminder which reminds the user when they have been sitting for too long. This helps the user to remain more active as they get reminded whenever they sit idle for long.
10.or Move has utility features like stopwatch, alarm, find my phone, music control as well as a remote shutter control. The remote shutter control helps you take pictures handsfree by just clicking on the smartwatch which is a unique feature in smartwatches under 2000.
10.or Move has multiple watch faces which provide an option to change your watch face for a new refreshing look.
10.or Move gives notification and call alerts on a large display. Read app notifications, text messages and caller names directly from your smartwatch. There's no need to take out the smartphone for every notification now.
10.or Move comes with a 1-year warranty for manufacturing defects.
CONS:
The battery on 10.or Move is about 3 days on a single charge which is pretty average even in this price segment.
out of stock
as of April 4, 2020 6:11 am
back to menu ↑
WellTech Smartwatch
Uniqueness
Welltech Smartwatch is a carbon copy of Apple watch which comes with great built quality.
This watch comes with SIM Card Support and you are able to call through watch only.
HIGHLIGHTS
Vibrant and bright 1.2-inch Colored display
Silicon strap
4G SIM conductivity
Bluetooth 4.0
PROS:
WellTech watch has a 1.2 inches colored display which comes with a resolution of 172×172 Pixels which is protected by a Scratch Resistant 2.5D Corning Gorilla Glass.
With WellTech you can get your Emails, Text Messages, Incoming Calls and Other App / Messaging Notifications, Phone Free Music (Listen to Music Without Carry Phone), Direct Access to Live Weather Forecasts.
WellTech has given you a complete phone on your hand with the help of which you are able to call, reply to messages and listen to music.
WellTech can measure sleeping hours which is good for the price tag.
You are going to have great looks and well as great features on your wrist only.
This watch is one of the best smartwatch which you can buy under 2K as it comes with all the latest features.
WellTech comes with a battery of 250mAh which is able to perform for a couple of days.
This device is Android and iOS compatible.
The UI on this watch is immersive and reader-friendly.
Comes with 1-year warranty.
WellTech has great built quality which make it perfect for day to day uses.
CONS:
No camera
Sleep reading is not accurate.
back to menu ↑
AJO V8 Smartwatch
Uniqueness
This watch comes with 4G LTE SIM Card Support and you are able to call through watch only.
HIGHLIGHTS
Vibrant and bright 1.77-inch Colored display
Rubber strap
4G SIM conductivity
0.3 MP camera
PROS:
V8 watch has a 1.77 inches colored display which is protected by a Scratch Resistant 2.5D Corning Gorilla Glass.
V8 can show you your Emails, Text Messages, Incoming Calls, and Other App / Messaging Notifications, Phone Free Music (Listen to Music Without carrying Phone), Direct Access to Live Weather Forecasts.
One of the greatest features of V8 is that it supports 4G LTE SIM which is wow for the price tag.
Precisely record your sporting data, monitor, and help you manage your health quality, monitoring how well you sleep last night, help you find your cellphone when lost it.
This V8 watch is one of the lightest watch of our list, you can wear it for hours due to its weight.
Comes with a 0.3 MP camera to record happy moments of your life.
AJO V8 smartwatch has a great battery life of 2 days which is more than enough as it supports SIM.
This device is Android and iOS compatible.
The UI on this watch is immersive and reader-friendly.
Comes with 1-year warranty.
This watch has a sports look and the watch looks great on hand.
CONS:
Strips are not of good material.
So this our list of "Top Best Smartwatch under 2000 Rs in India".
Hope you liked our list as we have done great research to bring the best products on our list.
If you are having any doubt about any product please ask about it, be will be happy to answer it.
How much do you like the post "Best Smartwatches to buy below Rs 2000 2020"?
We hope You would find our post helpful, either Yes or No, share your thought in the comment box as we love your comment. Also, be in touch to firstly know about our next upcoming post-
Also, If we have missed a favourite resource of yours, please add it below in the comments. We love looking up new avenues of inspiration from you. And Don't forget to share the topic 'Top best smartwatches under 2000′ on social networking site because this might be helpful to others.
Also, If you are looking for other high-quality Tech reviews or list of best gadgets then google it like "best phones under 10000 topbestof" or "best earphones under 1000 topbestof", "Realme 3 topbestof" or in general "what you want + topbestof".
Other Handpicked Articles