Best True Wireless Earbuds Under 3000 in India
Want to get rid of tangling wires hanging around your neck but running low on budget?
Looking for a truly wireless earphone under 3000?
You have come to the right place. Everyone wants to adapt to the fast-paced nature of today's world. The regular advances in technology have increased the need to stay upgraded all the time. The bezels on the phone's screen and the wires in your earphones are now becoming a thing of the past. With technology advancing by the minute, it gets difficult to keep pace. But as the gadgets are getting replaced faster, buying every new technology available in the market becomes unrealistic and hard to catch up to for the middle class.
Fortunately, a host of companies are working hard to bring top-notch technologies in the budget segment. Buying true wireless earbuds for those convenient running sessions won't cost you 10000 bucks anymore. While Apple, Samsung and Jabra are fighting for the top spot in premium true wireless earbuds segment, companies like boAt have tapped into the budget segment providing an array of features at an affordable price.
Understandably, the sound quality won't be on par with the higher priced earbuds, but they are good enough for daily use. You can check out our lists of best true wireless earbuds under 5000 and true wireless under 10000 for better sound quality and more premium features.
How did we prepare the list of Best True Wireless Earbuds under 3000?
True wireless earbuds must fit well into the ears and shouldn't fall off as they have no external support. The battery backup should be good enough to last a day and they need to be water-resistant to withstand splashes of water and sweat. True wireless earbuds should also have Bluetooth 5.0 that delivers a smooth and break-free connection. We have kept these and other features in mind before analysing and testing products on this list.
We have carefully tested the sound quality and build quality of these products to provide you with only the best true wireless earbuds under 3000 to choose from. An EDM lover would like their earbuds to have a punchy bass while you would want a good mic if you make calls throughout the day. The earbuds in this list cater to these and other demands of the modern-day user in a budget. Read further through this list carefully to make the right choice for yourself.
3 Best True Wireless Earbuds under 3000 in India
Noise Shots
UNIQUENESS/FACTS
A budget true wireless earphone under 3000, Noise Shots has a lot to offer. Featuring touch controls and IPX5 ratings, it is giving some tough competition to other options in this range.
HIGHLIGHTS
Bluetooth 5.0
IPX5 rating
6 hours of battery life and 400mAh charging case
Touch controls
1-year warranty
Noise Shots is a lightweight true wireless earphone weighing at just 4.6g. While you won't be getting ear hooks on these earphones, the earbuds fit in quite well. Select the right size of ear tips for your ears to prevent them from falling off the ears during running. The body is made up of plastic but doesn't look cheap. They have compromised a little on the build quality of the charging case, which has a shiny finish prone to scratches.
They come with an IPX5 rating. Both the earbuds have touch controls on the back. You would find the audio quality on Noise quite decent with a good punch of bass coming from the 9mm drivers. The volume output is loud enough to enjoy EDM and Rocks songs on these earphones. The connection with Bluetooth 5.0 was smooth and the latency is on par with other true wireless earphones under 3000.
The tiny mic on Noise deliveries occasional noise disturbance during voice calls in crowded environments while they perform much better indoors. Noise pairs with the phone quickly and has an LED which flashes blue light on pairing. Noise provides a decent battery backup of up to 6 hours while listening to songs continuously on 60% volume.
PROS
Noise has a decent plastic body with an angled design that doesn't fall off during running. The lightweight body of Noise makes it one of the best true wireless earphones under 3000 in India.
Noise Shots comes with an IPX5 rating which is a great addition at this range. Your earbuds won't get damaged due to sweat during workouts and you can wash your face while wearing them.
It delivers decent audio quality with a subtle bass. It will please soft song lovers as the vocals sound pretty clear on them. The volume output is overwhelmingly loud but is sufficient for a pleasant listening experience.
Noise Shots comes with touch controls which are easy to access. It is a great addition in this budget segment making Noise a sophisticated option.
Bluetooth 5.0 on Noise ensures quick and break-free connection to your device. The notification LED lights up as soon as your pair the earphones with your phone.
Noise has a 6-hour battery backup and you would get an additional 2 charges from the charging case making it easily last a few days on moderate listening.
CONS
Voice clarity on calls isn't the best and you can feel stutters in the voice on calls in noisy surroundings because of the tiny mic. That's a common problem in truly wireless earbuds in this range.
April 9, 2020 2:37 am
Amazon.in
April 9, 2020 2:37 am
Amazon.in
Last update was on: April 9, 2020 2:37 am
back to menu ↑
boAt Airdopes
UNIQUENESS/FACTS
boAt Airdopes come with a rubberised body which makes it look premium and stand out in the budget segment. The 500mAh charging case delivers excellent battery backup and the presence of IPX5 water-resistance rating and touch-based controls makes it an irresistible option under 3000.
HIGHLIGHTS
Bluetooth 5.0
IPX5 water-resistance rating
Touch controls
4-5 hour battery backup and 400mAh charging case
1-year warranty
The lightweight true wireless earbuds have a rubber coating above the casing making them look quite sophisticated and resistant to scratches. The charging case has a good quality plastic build and magnetic secure lock.
boAt Airdopes power on automatically when you take them out of the charging case and connect to the phone fairly quickly. The touch controls on the back of earbuds are quite responsive. You can't control music volume through these earbuds though.
The sound quality of boAt Airdopes is quite clean and vocals are a treat to listen on these. Unlike other products by boAt, the bass is subtle on these and lacks a significant punch but you can feel its presence. The volume output is decent and you would be better off listening to around 90% volume on noise outdoor environment.
You can make calls from a single earbud using these earbuds. Each earbud can be used separately which makes it one of the best true wireless earbuds under 3000 in India. The audio quality on calls is pretty average and voice sounds a bit muffled at times.
boAt Airdopes deliver a battery backup of about 4 hours while listening to songs on medium volume which is decent at best.
PROS
The lightweight body and comfortable ear tips make boAt Airdopes convenient to wear even for long hours. The rubberised body makes them look well above their price. You get an additional rubber hook with boAt Airdopes 311 which was lacking in boAt Airdopes 382 although, you get a secure grip in boAt Airdopes 382 for proper fit.
You get an IPX5 rating on boAt Airdopes which helps it endure splashes of water and sweat making them a durable option.
boAt Airdopes deliver clear vocals and delightful mids with a tinge of bass added to them. The volume output is moderately loud on these earphones much like other options in this range.
Controlling music, accepting calls and activating the voice assistant is quite convenient on boAt Airdopes due to the presence of capacitive touch controls.
boAt Airdopes quickly connect to the smartphone as soon as you pluck them out of the charging case. The latency is quite low on boAt Airdopes which ensures proper sync between audio and video during gaming and watching videos.
boAt Airdopes deliver a pretty average of 4 hours of battery backup. The charging case delivers an additional 3 charges making it an ideal option for trekkers who don't have access to a charger for long.
CONS
boAt Airdopes deliver average audio quality on calls with the voice sounding a bit muffled at times pretty much like other true wireless earbuds under 3000.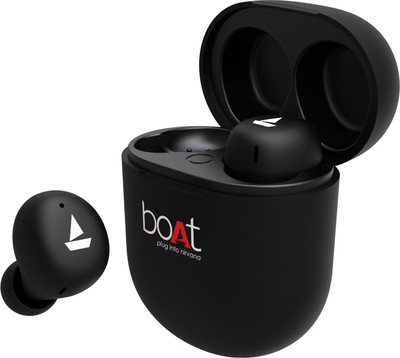 Usually Delivered in 7 - 8 days.
Listen to your favourite tunes, effortlessly, with these earbuds from boAt. Featuring capacitive touch controls, an IPX5 rating, and stereo calling facility, these earbuds have ...
5% Unlimited Cashback on Flipkart Axis Card
Extra 5% off* with Axis Bank Buzz Credit Card
No Cost EMI on Bajaj Finserv EMI Card
No Cost EMI on Flipkart Axis Bank Credit Card
Buy Today
Flipkart
in stock
Last update was on: April 9, 2020 3:37 pm
back to menu ↑
Soundcore Life Note
UNIQUENESS/FACTS
The latest true wireless entry into the true wireless budget segment, Life Note is a complete value for money. With C-Type charging support, Bluetooth 5.0 and a huge 40 hours of battery backup including the charging case, Life Note has all the ingredients to become the best budget true wireless earbud.
HIGHLIGHTS
Bluetooth 5.0
IPX5 water-resistant
7 hours battery backup
Dual mics on each earbud
18 months warranty
Life Note has a lightweight plastic body that closely resembles the first-generation Air Pods. The angled ear tips snugly fit into the ears and are quite secure. It has a compact charging case that is lightweight and easy to carry in the pocket
While many companies are offering touch controls, Soundcore has stuck to the tactile buttons on the back of the earbuds which will suit some users.
The sound quality is commendable on Life Note with a subtle bass. The clarity of vocals highlights an overall pleasant soundstage. The mids are quite evident and distinctive making it one of the best true wireless earbuds under 3000. Life Note has 2 mics on each earbud and it surprisingly delivers excellent sound quality on calls.
Life Note auto connects quickly to smartphones when you pluck it out of the case. It's an ideal true wireless earbud for gamers as the audio syncs quite well with on-screen graphics. Lastly, it delivers best in class battery backup of up to 7 hours on a single charge and that can be extended up to 40 hours using the charging case. The 18 months warranty adds a cherry on the top to this budget powerhouse.
PROS
Life Note provides some serious competition in the budget segment with an Airpods-like design. It's lightweight and the built quality is above par. It fits comfortably in the ears too.
Life Note has an IPX5 water-resistant rating which protects it from damage during sudden rains and excessive sweat during workouts.
It has a remote on the back of each earbud to control music and accept/reject calls so you don't have to reach out for your phone all the time.
Life Note produces delightful with the excellent distinction of instruments. The vocals are clear and it delivers a subtle bass. Unlike other true wireless earbuds in this range, the voice quality on calls is pretty good too.
Life Note delivers a brilliant 7-hour battery backup. You can charge the earbuds 4 more times using the case and it takes just 2 hours to completely charge the case.
It comes with an 18-month warranty.
CONS
There are no visible cons for this product.
How much do you like the post "Best True Wireless Earbuds Under 3000 2020"?
We hope You would find our post helpful, either Yes or No, share your thought in the comment box as we love your comment. Also, be in touch to firstly know about our next upcoming post-
Also, If we have missed a favorite resource of yours, please add it below in the comments. We love looking up new avenues of inspiration from you.
And Don't forget to share the topic 'Top Best True Wireless Earbuds Under 3000′ on social networking site because this might be helpful to others.
Also, If you are looking for other high-quality Tech reviews or list of best gadgets then google it like "best phones under 10000 topbestof" or "best earphones under 1000 topbestof", "Samsung Galaxy M40 topbestof" or in general "what you want + topbestof".
Other Handpicked Articles