Best Smartwatches under 25000 for Men & Women
Apple Watch and Samsung Galaxy Gear have ruled the premium smartwatch market since its early days and while there's still little to displace the two from 1st and 2nd best smartwatch companies even now, there has been a steady increase in competition in the premium smartwatches from brands like the fitness-centric Garmin and the smartwatches working on Google's WearOS like Fossil, Motorola, Casio and Diesel.
These brands are trying to make their mark from the analogue segment to the smartwatch segment since smartwatches have becomes a smart choice for those looking to spend thousands of bucks for a watch. After all, why would you choose a watch that only displays time, when you can make calls, reply to messages, tracks fitness activities and do so much more than that at the price of premium analogue watches. With the sharp increase in smartwatch companies and a plethora of options in the market, it's hard to choose the right smartwatch that could match your style and fit your needs.
To simplify the buying process and helping you select the best, we bring you the list of Best smartwatches under 25000. If you have a lower budget than this, you can check out our list of best smartwatches under 20000 which will be more helpful to you in that case.
How did we prepare the list of Best Smartwatches under 25000?
Apple Watch 3 has significantly dropped prices, Samsung has launched the successor to Galaxy Watch Active released earlier this year and Garmin has made an entry into a lower price bracket by toning down some features from it high-end smartwatches. With so much happening in the smartwatch market and more and more companies offering a wide variety of options, it gets difficult for a customer to take the right decision. While investing 25000 bucks, no one would want to buy anything lesser than the best.
We have therefore carefully analysed the benefits and drawbacks of buying each and every smartwatch available in this price segment. We have researched deeply and with our experience, we have listed out the best options available in the market. So, go through the list of best smartwatch under 25000 in India and you would definitely be able to select the smartwatch that suits you the best.
3 Best Smartwatches under 25000 in India
Apple Watch 42mm
UNIQUENESS/FACTS
Apple Watch * is a relatively budget-friendly offering in Apple Watch Series and its prices have significantly shot down during sales. But that doesn't make it any less than the best as it will give the best smartwatch experience to iPhone users in this range.
It has a beautiful design coupled with the smooth WatchOS which makes for great user experience.
HIGHLIGHTS
1.65″ OLED Retina Display
GPS and Altimeter
Voice Assistant Siri
Wi-Fi
Bluetooth 4.2
Swimproof up to 50m depth
WatchOS 4
8GB internal memory
PROS
Apple Watch has retained Apple Watch's flagship design. It's lightweight with a square dial and curved edges. The minimalistic design has become synonymous with Apple's success in smartwatches. It comes with a silicone band that feels quite comfortable and is great to wear during exercises.
Apple Watch comes with an OLED Retina Display that is very impressive. The colours are remarkable and vivid that makes for one of the best displays in smartwatches under 25000. The display is bright enough to read easily under direct sunlight.
You can make calls directly from Apple Watch using the in-built mic and speakers. You can also activate Siri and operate the device through the voice assistant. It helps to easily make calls, change music, open Maps and much more using Siri.
Apple Watch comes with WatchOS 4 that is a treat to use. Coupled with a dual-core processor, it responds quickly and doesn't lag at all. All the apps open swiftly and it also has a unique feature through which it vibrates on different intensities upon different app notifications.
Apple Watch has one of the most accurate heart rate monitors in smartwatches. It gives you a complete analysis of heartbeat patterns through the exercise which makes it a great fitness smartwatch under 25000.
You get 8GB Internal Storage to download ample songs and apps on Apple Watch. The watch automatically syncs the phone's music to the smartwatch, so just connect the phone to the watch and you are ready to listen to your playlist using the watch.
Apple Watch has an accurate step tracker that also smartly analyses the calories burned through the day. It suggests the number of steps you need to walk to accomplish the goals of the day.
Apple Watch has an in-built GPS that connects quickly and has a strong signal outdoors. You can leave your phone at home and track runs and routes directly from your smartwatch.
It also tracks swimming and Apple Watch is waterproof up to 50m making it a great smartwatch for swimmers.
Send and reply to messages from iMessage, Whatsapp, Facebook and much more directly from the Apple Watch. You also get many utility features like Calculator, flashlight, find my phone and much more in Apple Watch.
Apple Watch 42mm last around 20 hours on regular usage with heart rate monitoring, GPS and Wifi usage throughout the day. It's not the best battery backup but is good enough to last through a busy workout day. It would take 90 minutes to fully charge the smartwatch.
Apple Watch comes with a 1-year warranty.
CONS
You have to own an iPhone before buying Apple Watch which is the main reason why most of the smartwatches in the market are still relevant.
Apple Watch has such brilliant features that it is hard to choose any other smartwatch for iPhone users.
Gearbest.com
Rs. 669
Rs. 2,499
in stock
1 new from Rs. 669
as of January 19, 2020 3:36 pm
Rs. 691
Rs. 1,359
in stock
1 new from Rs. 691
as of January 19, 2020 3:36 pm
back to menu ↑
Fossil Carlyle
UNIQUENESS/FACTS
With round dial and stainless steel straps, Carlyle definitely looks like a fashion accessory and is suited to those obsessed with looks and style statement.
It works on WearOS which has its share of bugs but Carlyle comes with 1GB RAM and Snapdragon 3100 processor that makes it faster than other WearOS smartwatches.
HIGHLIGHTS
1.28″ AMOLED Display
1GB RAM
Snapdragon 3100
Speaker and Mic
GPS
Water-resistant up to 30m
Wifi
Bluetooth 4.2
PROS
Carlyle is a beautiful looking smartwatch with a steel bracelet. It has a circular dial with an aluminium casing that looks tough and durable. Overall, Carlyle is one of the best looking smartwatches under 25000.
Carlyle has a 1.28″ AMOLED display that produces sharp high-resolution images. The colours are vivid and pleasant to see indoor but the brightness is somewhat low for bright conditions. It gets difficult to read text on Carlyle under direct sunlight.
Carlyle is water-resistant up to 30m which makes it good to wear during swimming. You can track swims with the smartwatch but be wary of not going too deep underwater because it has a water-resistance limit of up to 30m only.
Carlyle has a speaker and a mic that can be used to make calls with this smartwatch. This is a great feature which lets you accept calls directly from the smartwatch during workouts. You can also talk to the Voice Assistant and listen to music using the speakers but the sound is pretty average while playing music.
Carlyle has 1GB RAM and 8GB internal storage. The apps load quicker than most WearOS smartwatches. We didn't notice any kind of lag while operating the smartwatch. You can store songs, apps and images on the ample 8GB internal storage in this smartwatch. This makes it one of the best smartwatches for men under 25000.
Carlyle has a range of preloaded watch faces to choose from. You can also download more watch faces from third-party apps.
You can reply to messages directly from Carlyle. It lets you operate a full QWERTY keyboard to reply while you can also use quick suggestions to reply Whatsapp or Facebook messages and emails. These are the features you look for in a smartwatch in this range.
Step tracking is very accurate as compared to other WearOS smartwatches. Track a range of activities with the smartwatch including indoor gym exercises, running, cycling and more. It tracks the calories burned, distance travelled and speed accurately. Heart rate tracking is also precise on Carlyle although it doesn't calculate fluctuations in heart rate.
Carlyle has a GPS that helps track your runs without the phone. Leave the smartphone at home and focus on workouts with Carlyle. The GPS signal is strong and tracks routes accurately. You can use Google Maps to navigate using the smartwatch.
The battery life of Carlyle is around a day on regular usage of GPS, Wifi and Heart Rate monitor while it can last up to 3 days with a battery-saving mode that turns off a few sensors.It also has a time-only mode that can be used to extend battery life when you forget your charger for a week at home.
CONS
Carlyle doesn't have a sleep tracker and WearOS has its fair share of lags and bugs. But Carlyle is one of the most stylish and tough smartwatches in this segment and provides all the features you will ask in a fitness smartwatch in this range.
Rs. 22,995
in stock
11 new from Rs. 22,995
as of January 19, 2020 3:36 pm
Rs. 22,995
in stock
9 new from Rs. 22,995
as of January 19, 2020 3:36 pm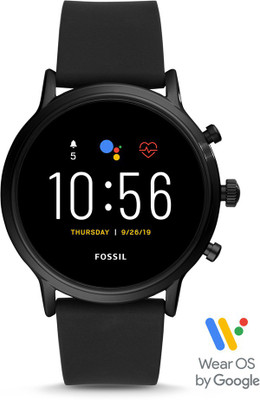 Flipkart
back to menu ↑
Galaxy Watch Active
UNIQUENESS/FACTS
Galaxy Watch Active * is the perfect successor to Watch Active launched earlier this year. It has a digital touch dial that's used for navigating through the watch, sorely missed in Galaxy Watch Active. The attractive and slim design of Watch Active makes it stand out.
HIGHLIGHTS
1.4″ AMOLED Display
Exynos 9110 processor
786MB RAM
4GB Internal memory
TyzenOS
IP68 Water-resistant up to 5m
GPS
Wifi
340mAh battery
PROS
Watch Active is a lightweight watch weighing at just 41g with the strap. It has an aluminium body with a circular dial for a classy look. With a rubberized Fluoroelastomer band, Watch Active is comfortable and sweat-resistant. Overall its design makes it one of the best smartwatches for men under 25000. The fairly small-sized watch also looks great on men with smaller wrists and women.
Watch Active has a high resolution 1.4″ AMOLED display which produces vibrant colours. It comes with an Ambient light sensor and it's sufficiently bright to read under direct sunlight. What stands out in the design is the touch-based digital dial that helps you navigate to different apps. The watch softly vibrates upon switching to different apps and it works quite smoothly.
Watch Active has 768MB RAM along with Exynos 9110 processor that coupled with the TizenOS to provide a smooth experience. The apps load quickly and you won't notice any lag switching between apps. You also get 4GB RAM to download songs for offline listening. You can also listen to songs through the Spotify app on Watch Active.
Watch Active comes with customisable watch faces and you get access to a wide range of watch faces on Tizen Store. You can reply to messages, emails, social media apps using the smartwatch, so you won't need to take out your phone for every notification. Watch Active also has access to apps like Calorie counter, flashlight and more.
Watch Active has a speaker and mic which lets you make calls directly from the smartwatch when connected to the phone. The speaker clarity is about average and you might not enjoy listening to songs. No one listens to songs on the watch speaker anyway.
Watch Active comes with 39 sports modes to track activities like running, swimming and cycling. It also tracks gym exercises like crunches and arm extensions and can help make your exercise more efficient. Step tracking is highly accurate on this smartwatch, making it one of the best smartwatches to buy under 25000.
The heart rate monitor gives precise results and you also get the ECG (electrocardiogram) feature that tracks the fluctuations in a heartbeat. It alarms you when the pulse is irregular to help you work out safely. Sleep monitoring is decently accurate on this smartwatch and can come handy to analyse sleep. You can easily wear this while sleeping because of its comfortable design.
Watch Active has an IP68 rating that helps you wear it during rains and while swimming. You can track swimming and it also comes with a water lock mode that disables touchscreen and vibrates to remove excess water.
Watch Active has a commendable battery backup of up to 2 days on regular usage of Wifi, GPS and heart rate monitor. It gets fully charged in about 90 minutes which is quite quick.
Watch Active comes with a 1-year warranty.
How much do you like the post "Best Smartwatches to buy below Rs 25000 2020"?
We hope You would find our post helpful, either Yes or No, share your thought in the comment box as we love your comment. Also, be in touch to firstly know about our next upcoming post-
Also, If we have missed a favorite resource of yours, please add it below in the comments. We love looking up new avenues of inspiration from you.
And Don't forget to share the topic 'Top Best Smartwatches under 25000′ on social networking site because this might be helpful to others.
Also, If you are looking for other high-quality Tech reviews or list of best gadgets then google it like "best phones under 10000 topbestof" or "best earphones under 1000 topbestof", "Samsung Galaxy A80 topbestof" or in general "what you want + topbestof".
Other Handpicked Articles