Best Smartwatches for iPhone Users(Men & Women)
Are you looking for a smartwatch that can complement the class and features of your iPhone?
We are bringing you the latest list of premium smartwatches that will complement the demands of an iPhone user.
Smartwatches can come in very handy to make quick calls, check on notifications, set a quick alarm and do many such things without using the phone. But it isn't limited to this. An iPhone user has a preference if the latest options are available in the market. He doesn't expect anything less than the best. So, the smartwatch should be fast, tracks fitness data accurately and have the trendiest looks in the market. It should be the best in its class and must have unbeatable features. So we have prepared the list of Best Smartwatches for iPhone. The list has a variety of top-notch smartwatches from the 2 leading smartwatch brands- Apple and Samsung. We have listed all the features along with the drawbacks of each product to help you choose the best.
How did we prepare the list of Best Smartwatches for iPhone?
The smartwatch market has been ruled by the Apple Watch series for a long time. After more than 5 years, no watch yet has close to matching the perfection of an Apple Watch. But many companies are trying to provide competitive features in a lower price bracket. Galaxy Watch series has risen through the rank as has been respected and loved by the masses. Other than the Watch Series, Galaxy Watch also works well with iPhones. But Google's WearOS smartwatches, which is the other great option in the market, isn't completely compatible with iPhones. Some features remain missing. So we have selected only Apple Watch and Galaxy Watch variants in this list. If you are looking for the best smartwatches for Android, check out our list of best smartwatch under 25000.
We have analysed all the aspects of these smartwatches and listed out the best options only. These options look great, have excellent features and unbeatable specs. So here's the list of Best Smartwatches for iPhone.
3 Best Smartwatches for iPhone Users
Apple Watch 5
UNIQUENESS/FACTS
Apple Watch 5 is the newest model of the Apple Watch Series and it's still the king. Watch 5 has an always-on display and a compass over Watch 4 but that's about it. Everything is still the same including the price which is almost equal to Watch 4.
It comes in 40mm and 44m dial sizes. You can also choose from GPS-only and GPS+Cellular variants.
HIGHLIGHTS
1.78″ OLED Retina Display
50m water resistant
WatchOS 6
32GB internal memory
Bluetooth 5.0
Always-On display
GPS, LTE support
PROS
An elegant design that has won the hearts of many, the Apple Watch 5 looks just the same as last year's Watch 4. In fact, the whole Watch series has stuck to the identical aluminium curved body which has now become iconic.
The 1.78″ OLED Retina Display produces brilliant images and the 1000 nits brightness makes it comfortable to watch under direct sunlight. The Always-on display dims when you're not using the watch and it brightens up as you start using it. The ambient light sensor works exemplary well although the dimmed brightness is still quite luminous in indoor conditions.
The new WatchOS 6 has significantly improved the smooth WatchOS with a range of exciting features. Activity Trends is feature is added which tells you how fitter, stronger or better you have become over a period of 90 days or more.
The App Store can only be accessed from the watch and apps download quickly using Wifi or LTE in case of Cellular version. Voice input is easy to use and search apps on the App Store. You can also use Scribble input to type on the fairly big screen.
Apple Watch 5 has a compass upgraded over the Watch 4 and the rest of the fitness features like Heart Rate monitoring, GPS and accelerometer work the same way. The heart rate monitoring is highly precise as compared to fitness-centric Garmin smartwatches.
Step tracking also works great on Watch 5 and the GPS signals are quite strong. Overall it's the best smartwatch for iPhone.
Watch 5 is water-resistant up to 50m. The swimming tracker measured the distance travelled and speed precisely. It also has a special cycling tracker that measures routes, distance and speeds really well.
Watch 5 has a speaker and mic that can be used to make calls directly from the smartwatch. You can opt for the LTE version which has a sim slot and you can use without your phone although you still must have an iPhone since the Apple Watch works with the phone's Apple ID.
You can also listen to songs from Apple Music and download them offline in the large 32gb internal storage.
The battery backup of Watch 5 is affected by the Always-On display and it gives around 18 hours on regular usage as compared to 24 hours on Watch 4. It still lasts a day and you would need to charge it overnight for regular usage.
CONS
Watch 5 doesn't have a dedicated Sleep tracking app which is the only drawback you would notice. That is solved by the abundant third-party sleep tracking apps on the App Store. Otherwise, Watch 5 is undoubtedly the best smartwatch for iPhone users.
back to menu ↑
Apple Watch 3
UNIQUENESS/FACTS
Apple Watch 3 is a great affordable smartwatch for iPhone. Apple has brought the price down significantly while it has a lot of the premium features of Watch 4 and Watch 5.
The accurate fitness tracking and GPS along with the iconic design make Watch 3 an irresistible option in almost half the price of Watch 5.
HIGHLIGHTS
1.5″ OLED Retina Display
GPS and Altimeter
Voice Assistant Siri
Wi-Fi
Bluetooth 4.2
Swimproof up to 50m depth
WatchOS 4
8GB internal memory
PROS
Watch 3 is a lightweight smartwatch with the flagship Watch series design. It has a sleek and minimalistic design with curved edges. The aluminium body is tough and the watch is one of the best wearables in the price segment.
Watch 3 has an OLED Retina display that displays attractive images and vivid colours. The touch response is buttery smooth. The display is quite bright and easy to use under direct sunlight. The only thing missing is the Always-On display incorporated in the new Watch 5.
You can make calls directly from the Watch 3. It has in-built mic and speakers that can be used to make an accept calls. The voice clarity is good that comes in handy to make calls while exercising. You can use Siri to use the smartwatch for typing and setting alarms.
Apple has released WatchOS 6 update to Watch 3 which has some new and exciting features. The apps load quickly and you won't notice any lag which is a testament to the brilliant processors in Apple devices.
Heart Rate monitor works accurately on Watch 3. It can measure bpm and blood oxygen levels. The blood oxygen level measurement is useful to ensure proper oxygen supply in the body.
Watch 3 vibrates when your pulse becomes irregular which ensures safe workout sessions for heart patients.
You get 8GB internal storage on Watch 3 to download songs offline on Apple Music. You can listen to songs directly from the watch using Bluetooth earphones or watch speakers. The volume output of watch speakers is decent for listening indoors.
It makes exercising more fun and you can flip songs conveniently using the smartwatch. Watch 3 is one of the best smartwatches for iPhone under 25000.
Watch 3 has an accurate GPS that tracks routes while running or cycling. You can use Maps directly from the smartwatch so you can run while you have left the phone at home.
Watch 3 has water-resistance up to 50m. You can track swims on the Watch 3 while it can endure accidental splashes of water easily.
You can send messages on Whatsapp, Facebook and other apps directly from the smartwatch. You can set alarms, use a stopwatch, set reminders and there are many other useful utility features in Watch 3. Watch Series is the perfect smartwatch and that's why it's the best selling smartwatch in the world.
Watch 3 has a battery backup of around 18 hours on regular usage. With an all-day heart rate tracking, fast GPS, Wifi and Bluetooth, this is a decent battery backup for everyday use.
Watch 3 comes with a 1-year warranty for manufacturing defects.
CONS
Watch Series can only be used with an iPhone. There is no better smartwatch than Watch 3 in this price range. If you are looking for a few extra features and the newest Apple Watch 5, you can go for Watch 5 with a few extra bucks.
back to menu ↑
Galaxy Watch
UNIQUENESS/FACTS
The Galaxy Watch is definitely the second-best option for iPhone users and the best in class for Android users. It's an affordable premium smartwatch with a unique rotating bezel that is loved for its easy navigation. It has a tough body suited to men and is one of the best smartwatches for iPhone users.
HIGHLIGHTS
1.6″ AMOLED Display
Gorilla Glass Dx protection
50m water-resistant
Built-in GPS
472mAh battery
Tizen OS
4GB internal memory
Exynos 9110 Dual-Core processor
Bluetooth 4.2
PROS
Galaxy Watch has a durable stainless steel dial that is aesthetically pleasing as well as tough for rough usage. It has a rotating bezel that protects the screen from damage due to accidental drops. The rotating bezel makes it easier to navigate through the apps and you don't have to swipe the screen which provides a convenient experience.
Galaxy Watch has an excellent AMOLED display that produces sharp images and brilliant colours. It has a Gorilla Glass Dx+ protection that makes the screen tough and durable. The touch response is fast with a refresh rate of 60Hz.
Galaxy Watch tracks as many as 39 sports activities including both indoor and outdoor sports. It can auto-detect cycling, running and 4 other fitness activities. It saves you a lot of time by auto-tracking these activities. 
Galaxy Watch has a voice calling feature that helps to make and accept calls directly from the smartwatch. Call quality is clear and we didn't notice any disturbance during calls. You can also reply to messages on Whatsapp, Facebook and other social media apps directly from Galaxy Watch. Galaxy Watch is a better option than WearOS smartwatches which doesn't support texting when connected to iOS.
Galaxy Watch has over 60,000 watch faces that can be downloaded from the Tizen store. It has a good range of third-party apps and allows customisable widgets and watch faces. You get 4GB internal storage to download songs on Spotify offline. Just connect the watch to Wifi and download songs on the smartwatch. The only downside is the relatively lower 4GB internal storage as compared to similarly priced Apple Watch 3.
Galaxy Watch has the best in class battery backup of up to 4 days on regular usage. The big 470mAh battery makes Galaxy Watch a great option for adventure trips and treks. Galaxy Watch also has a power-efficient battery saving mode that reduces the watch functions in making calls and displaying notifications. It comes in handy when you don't have a charger around and are running low on battery. 
CONS
Tizen store doesn't have popular apps like Facebook and Whatsapp. So you can only reply to messages and can't send new messages from these apps. Otherwise, Galaxy Watch has a range of features that makes it a great option in this price bracket.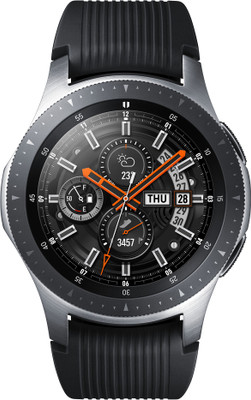 Rs. 23,990
Rs. 29,990
in stock
Flipkart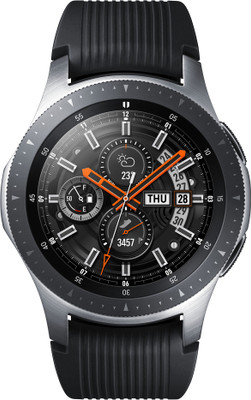 Flipkart
So this was the Best Smartwatches for iPhone users in India.
How much do you like the post "Best Smartwatches for iPhone 2020"?
We hope You would find our post helpful, either Yes or No, share your thought in the comment box as we love your comment. Also, be in touch to firstly know about our next upcoming post-
Also, If we have missed a favorite resource of yours, please add it below in the comments. We love looking up new avenues of inspiration from you.
And Don't forget to share the topic 'Top Best Smartwatches for iPhone′ on social networking site because this might be helpful to others.
Also, If you are looking for other high-quality Tech reviews or list of best gadgets then google it like "best phones under 10000 topbestof" or "best earphones under 1000 topbestof", "Samsung Galaxy M40 topbestof" or in general "what you want + topbestof".
Other Handpicked Articles