5 Best Earphones under 500 rupees in India
Looking for the best earphone under 500 with the mic so we are here to help you out as nowadays, selecting the right earphones among hundreds is a quite time-eating task & confusing especially to those who are the music lover.
The feature mentioned on box/paper only tell half of story but further half is covered by us & that is user experience.
How have we created the list of best earphones below 500?
So, it was a quite long process but we manage to test around 5 best in-ear earphones under 500 rs and we only choose the top 5 earphones among them. We listed the best budget earphones under 500 Rs with a priority order of sound & build quality. We truly say that you will love the following list because our list of smartphones under 10000 is created with the same dedication level as this created and thus One person (R Kalita) found very useful and much better in comparison to other websites. Just look at the image-
Today, people try to buy an earphone which has a mic and can deliver the good bass below 500, so keeping this in our mind, our list consists of good bass earphones with the microphone or you can say best earphones under 500 with the mic.
Having budget more than 500 then must Check out– " Best earphone under 1000"
5 Best Earphones under 500 Rs in India 2020
bOAt BassHeads 225 with Mic
DESIGN
Design of the earphones is stylish and it looks very premium. The bOAt earphones are lightweight and durable which gives you the capability of listening to music for long hours. In this earphone, bOAt has used a flat type of cable which adds a cool gesture to the earphone. The wire of bOAt 225 is tangle free and are made of rubber. This earphone is having L shaped 3.5 Headphone jack.
Build
bOAt 225 is having 1.5m standard tangle free wire. The build quality of earphones is very nice and it feels comfortable in your ears due to the metal body and good quality of rubber buds respectively. The cable of this earphone is very strong as compared to other earphones. They are made up of the metal body and despite of that, they are still light in weight. bOAt 225 is so much comfortable that you can use this earphone in GYM also. 
Available Color
Black, Red, Blue, White, Green, Lime
Sound
These are one of the best sound quality earphones which comes with 32-ohm impedance, with a price tag of 500rs. The earphones come with 10mm drivers that aim to provide clarity along with stereo sound with particular attenuation to ambient sounds BOAt bass heads are bassy as compared to the other earphones and it's not overwhelming which is really good. Bass is highly maintained in bOAt BassHeads 225 which makes it a great choice for Bass lovers. The sound quality of this earphone is great with enrichment of wordings. The sound is having great clarity at full volume also. Call quality is great as the audio is clear and loud. The performance of the microphone is also great.
What's in the box
Earphone,4 different pairs Silicone Earbud's Size(S/M/L), ear hooks, and shirt holding clip.
Attenuation
When it comes to Noise cancellation as it has a tangle-free wire design, BassHeads 225s performance is unbeaten at the price tag of Rs 500.
Cons
No Cons.
back to menu ↑
Mi Earphones Basic with Mic (2018)
DESIGN
The company does well in term of design, it is pretty attractive and shining. It comes with a metallic finish and also light in weight. Mi has given angular shape to this earphone to make it user-friendly while walking or running. Mi Earphone Basic is having L shaped 3.5mm Headphone jack to provide extra comfort while playing games or watching videos. The earphone comes with 1.25m long wire and the headphone jack is Golden plated to make audio more clear.
Build
The build quality of the earphones is good and with the metal chamber, they look premium and the front auditory tube bends at 45° to match ear canals for proper adjustment by which they do not easily pop out and it has tangle free cable made of Kevlar which is a very durable type of material.
Available Color
Black, Red
Sound
The sound quality of the earphone and the vocal sound of the earphones is good compared as to any other 500rs of earphone, and these earphones have much better sound quality than Amazon Basic and Flipkart smart buy which you get at a single price point.
What's in the box
Earphone, 3 different pairs Silicone Earbud's Size(S/M/L)
Attenuation
The noise cancellation of these earphones is average. You have to increase the volume or go to the less noisy area because the outer sound will disturb your bit, for clear listening.
Cons
No Cons.
back to menu ↑
Flipkart SmartBuy Wired Metal Headset With Mic
DESIGN
Earphones look very stylish and lightweight or comfortable because of its unique design.
Build
Build quality of earphones is also good as compared to the price. These earphones feature anti-slip ear tips and sweat free silicon coating ear tips, so you can use these earphones while running, exercising or gym.
Available Color
Black, Gunmetal
SOUND
In case of sound quality, the earphones are much better than other 500rs priced earphones, with loud and clear vocal but the bass is average and the treble is good. It feels little shaky while using at high volume. Overall, Flipkart SmartBuy has value for money sound quality. Bass is maintained at a high level also which makes it a great buy for High bass lovers.
What's in the box
Earphone, 2 different pairs Silicone Earbud's Size(S/L)
Cons
Unable to distinguish the vocals and instruments and feels shaky while using at high volume.
back to menu ↑
Philips SHQ1200/10 ActionFit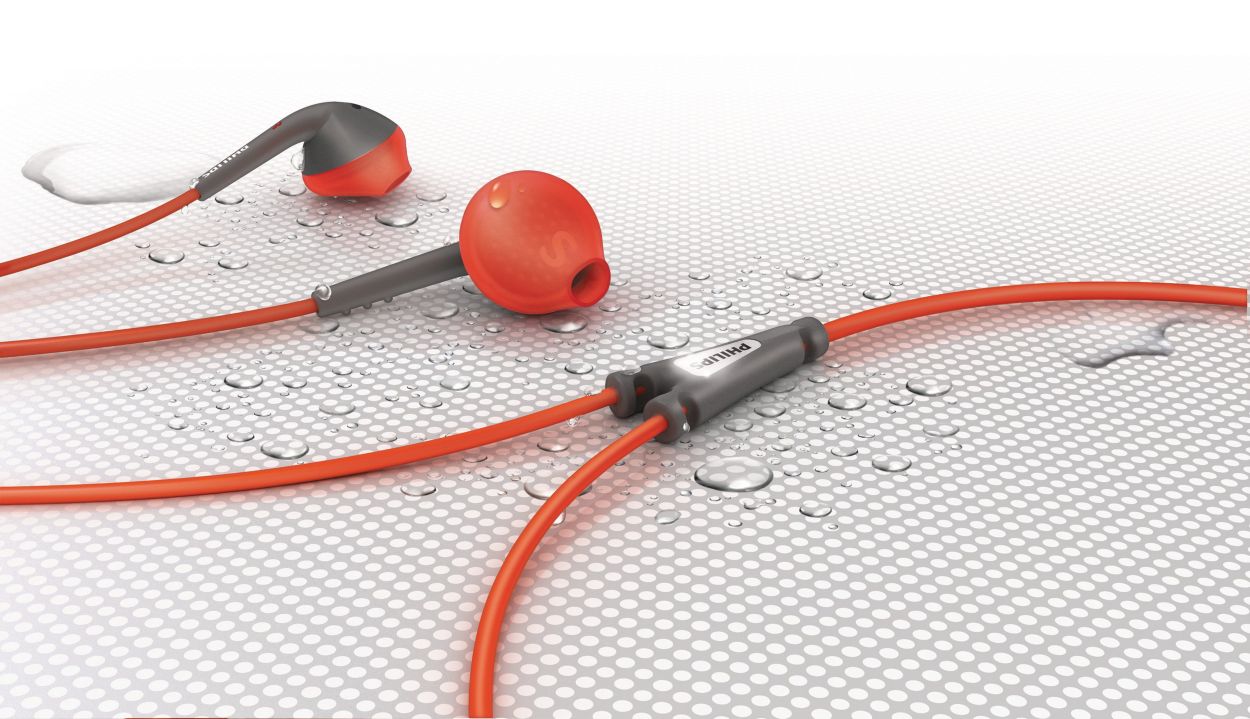 DESIGN
These earphones are the most uniquely designed earphones among all other because the tip of earphones is like the suction cup of ear wax remover through which they completely and easily adjusts in your ear canal and don't heart the inner lining of your ear even after a long use.
BUILD
Build quality of earphones is nice and it comes with rubber coated earbuds which are sweat proof or allows you to take them out in rain and wear them when sweating heavily. Philips SHQ1200/10 ActionFit have non-slip soft silicone caps helps to seal the earbuds to your ears for better sound quality and a better fit.
Available Color
Orange and gray
SOUND
Philips SHQ1200/10 ActionFit is one of the best earphones around 5oo Rs but it does not come with a microphone, so if you need microphone I suggest to buy Mi Earphones Basic or Flipkart SmartBuy Wired Metal Headset
SOUND
When it comes to sound quality. This earphone offers 13.6-millimetre drivers, offers high power sound with loud bass and quality of acoustics.
What's in the box
Earphone,2 different pairs Silicone Earbud's Size(S/L), ear hooks, shirt holding clip or a pouch.
Cons
Absence of the microphone.
back to menu ↑
Philips SHE1505 with mic
DESIGN
The design of earphones is simple and very straightforward. The back of this earphone is like the bOAT basic earphones and the price of the earphones signifies its design.
BUILD
In case of build quality, the earphone is not so good but it has the 1.2m long wire which is not tangled free and 10 mm drivers of these earphones are much better than the others at the price stage of 500rs.
Available Color
Only Black
SOUND
The sound of these earphones is just average. Actually, These one are entry-level earphones, so what we can expect at this price range? I found that Bass of earphones is ok but vocal sound are quite impressive compared to what I expected. I highly recommend these earphones to Bikers mainly and also for low volume users.
What's in the box
Only earphones.
Cons
No Cons.
Still, any doubt feels free to ask via comment.
Suggestion- If you are searching for the best bass earphones under 500 or boat earphones (specially bOAt bassheads 225) or ubon earphones or Jbl in-ear headphones under 500 or Skullcandy in-ear headphones or sound one 616 or any else then we suggest you to higher your budget and our new list of best earphone- Top 10 Earphones to buy under ₹1000 in India (Depth Review).
Todays In short Best 
Tips & tricks

:

Best app for Downloading Movie/video from any website[Youtube, Facebook, Instagram, or any]

Link to download- Download Snaptube App.
What are lows, mids, & highs mean in music?
Highs are high-frequency sound Similarly, mids & lows are mid & high-frequency sounds respectively.
Highs mean high-frequency sounds like treble sound. It ranges between 4KHz to 20KHz.
Mids includes low-mids, mid mids, and high-mids. Where Low-mids lies between 250Hz to 500Hz(approx). Mid-mids lies between 500Hz to 2000Hz/2KHz(approx). High-mids lies between 2KHz to 4KHz.
Lows include Bass and Sub-Bass. Sub-bass sound frequency lies between 20Hz and 70Hz(approx) & for the Bass, sound frequency lies between 80Hz to 250Hz(approx).
Take Care before you use headphones or earphones
If you are listening to the music at maximum level it might take you in a problem in future, so try to listen to 60% of a maximum sound level. If you hear more than 1 hour then it would quite good for you to listen to 50 to 60% of the sound level.
Since many earphones or headphones are available in the market from better to worse consider using within limitation as mentioned above or Read More at– NHS.
Just look at the video attached below. It is attached so that you can test the bass of your Headphone or earphone that you currently own or further planned to buy.
Top 5 Best in-ear headphones under 500 Rs: Was the post helpful? Share your experience
We will be happy to hear from you on our post: Top 5 earphones below 500 with a mic. Your Feedback in the comment section will help us to improve so that we can deliver a better experience to you.
Thanks for reading. We are waiting to see you again.
Handpicked other articles: