Stuffcool Mini 10000mAh Power bank review – The pocket-sized powerhouse
Stuffcool Mini 10000mAh Power Bank Review
Power banks have seen a gradual decrease in the market due to various reasons. The major reasons being the bulky size of power banks are difficult to carry while most phones today are giving huge battery backups too. Another reason is the quick charging that smartphones support juicing up the battery from 0 to 50 in 30 minutes. But all is not doom and gloom for power banks since the usage of phones and increasing features has made people use the smartphone in watching battery-draining web series, playing high graphics games and using social media through the day. These activities can still lead to early draining of the battery and power banks can be necessary for those who need to make urgent calls while being outside throughout the day. If you are looking to buy a power bank, check out our list of best power banks under 1500. If there was an option of a quick charging power bank that could just slip in the pocket easily, it would be ideal to carry and use. Stuffcool Mini provides just that.
Launched earlier this year, Stuffcool Mini is a 10000mAh power bank from the fast-rising startup Stuffcool that is as small as the size of a credit card and weighs less than most smartphones too. While it has all the necessary up to date features required in a power bank like lightweight, all types of port support and quick charging, we are providing an in-depth analysis to make it clear whether Stuffcool Mini is the right option to buy in this range over its more celebrated competitors like Xiaomi, Realme or Anker.
Stuffcool Mini 10000mAh Power Bank Review
Specifications
HIGHLIGHTS
Capacity: 10000mAh
Input: Type-C PD18W (power delivery)
Output: Type-C PD18W + USB-A (QC 3.0 compatible)
Battery Type: Li-Polymer
back to menu ↑
Unboxing
UNBOXING
Stuffcool Mini is only available in black colour which we got to test and review. It came in a small white cardboard box with a display of the small-sized Stuffcool Mini and its primary features. On the back of the box are the complete specifications and the overall box looks catchy. We found the following items inside the box :
Stuffcool 10000mAh Power Bank in Black colour
20cm Type-C to USB A mini cable
User manual
back to menu ↑
Design and Build Quality
On the first impression, Stuffcool Mini is a rectangular compact sized power bank with curved edges. It looks thicker than other contemporary power banks with dimensions of (91 x 64 x 21.5 mm) but the size is as compact as a credit card which makes it one of the smallest sized power banks in India. With a weight of 169g, it's equal to the weight of a light smartphone and is quite easy to carry. The form factor is great for users who don't carry a bag as this power bank can be kept inside the pocket quite easily.
Looking at the build quality, Stuffcool Mini is made up of plastic and attracts dust and scratches easily so it shouldn't be used to roughly to maintain its looks. There's the Stuffcool logo on the front right while there's a text written about Quick Charge 3.0 and USB Type-C compatibility.
There are two ports at the bottom. On the left is USB Type-C port with USB PD 18W input (5A-3A / 9V-2A) and USB PD 18W output while on the right is the USB Type-A output port. The lack of a second USB Type-A port will hurt users who are looking for a power bank to charge two smartphones at a time.
There is a power button on the right side and 4 LED battery indicators on the left. The indicators show battery levels with one light for 0-25%, two for 25-50%, three for 50-75% and four for 75-100%. The LED blink in white during normal charging while one LED glows in green colour when the power bank is using power delivery(PD) or Quick Charge functions. Overall the ports are well-spaced and the design looks very compact and minimalistic. The lightweight and small-sized body is definitely a standout feature as compared to other bulky power banks in this range. The only drawbacks are the plastic body that is prone to scratches and the lack of multiple USB Type-A ports.
back to menu ↑
Performance
Stuffcool Mini is one of the rare power banks offering Quick Charging input as well as output. This is a great feature to have since power banks usually take long while getting charged because of the absence of quick charging support. Stuffcool Mini has the capacity to charge all kinds of mobile devices including Android phones, iPhones and IPads. Both Type-C and Type-A ports can be used to charge mobile devices but only one port supports Quick Charge at a time. Stuffcool Mini automatically recognizes the device plugged and give sufficient power supply because of the USB PD technology which lets the battery to be used efficiently. To charge two devices at a time you can buy a Type-C to iPhone or Type-C to Type-C cable to use both output ports at the same time.
Much like power banks in this segment, Stuffcool Mini does lose power during voltage conversion. Stuffcool Mini has a battery of 3.7V/37Wh which gives the actual output of 7400mAh. This is on par with other power banks of this range like Realme and Mi 2i which have a battery of 3.6V and 3.8V respectively. On our testing, we charged the Honor Play a little more than one and half times which is a good backup by a 10000mAh battery giving a conversion rate of about 75%.
After charging the phone's battery about 50%, Stuffcool Mini became a bit warm but we found no issues of overheating. Stuffcool Mini does have protection from over current and over voltage which is common on power banks and is a useful safety feature. Using an 18W Quick Charge 3.0 compatible charger, it takes around 3 and a half hours to completely charge the power bank but it's not recommended to charge overnight as the battery can get damaged if you keep the charger on even after it gets fully charged. All the LED lights stop blinking and light up indicating that the power bank is fully charged.
Stuffcool claims that Stuffcool Mini can last more than 500 charge cycles which is a fairly large lifetime of the power bank. To maintain and increase longevity, don't expose it to high temperatures and don't overcharge it.
back to menu ↑
Final Verdict
Stuffcool Mini is a pocket-sized lightweight power bank that supports both input and output 18W Quick Charging. Due to its small size and lightweight, Stuffcool Mini is ideal for daily users to take to the office, college and everywhere else. It is especially good for people who don't carry a bag and keep the power bank in their pockets. The plastic body though is susceptible to scratches and the power bank should be handled with care to make sure it lasts long.
It can charge around 6000mAh battery in a full charge which is on par with what its competitors like Xiaomi and Realme are offering and Quick Charging works like a charm. The only drawback is that there's only one Type-A port as compared to two Type-A ports given in other banks for charging two devices at a time. You would need to buy a Type-C connector to charge a second device from the input port. Finally, it comes with a 6 months warranty for manufacturing defects. Looking at lightweight and small-size along with Quick Charge supports in both input and output ports, Stuffcool Mini is definitely a viable option to buy in power banks under 1500.
back to menu ↑
Stuffcool Mini 10000mAh Power Bank: Price & Availability
April 2, 2020 12:00 am
Amazon.in
Last update was on: April 2, 2020 12:00 am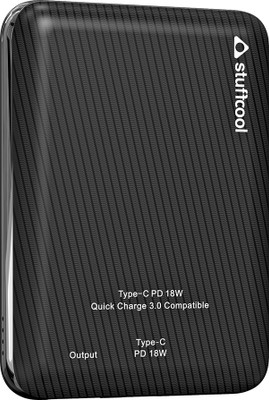 Rs.

1,399

Rs.

1,999
in stock
Flipkart
Last update was on: April 2, 2020 10:10 pm
back to menu ↑
Stuffcool Mini 10000mAh Power Bank: Expert Score & User rating
Stuffcool Mini 10000mAh Power Bank Review
PROS
Lightweight
Pocket-sized dimensions
18W Quick Charge input and output support
Good battery life
Type-C support
CONS
Only one Type-A output port
Plastic body susceptible to scratches
Also, If you are looking for other high-quality Tech reviews or list of best gadgets then google it like "best phones under 10000 topbestof" or "best earphones under 1000 topbestof", "Samsung M40 topbestof" or in general "what you want + topbestof".
Hope, you don't have any doubt after going via the Stuffcool Mini 10000mAh Power Bank with Review, if any question then asks in the comment section.
Hand-Picked Articles