1MORE Piston Fit Another Decent Wireless Earphones Review
1MORE Piston Fit Wireless Earphones Review
In this world full of noise, music has essentially become our soulmate for survival. During rush hour on the bus or metro, an hour before you sleep on a long day or escaping from that irritating music in the gym that doesn't suit your vibe, your earphones rescue you from everywhere. It's safe to say earphones are just like the charger that comes bundled with your phone. The only catch here is that earphones don't come bundled with most smartphones nowadays because of the cost-reducing tactics of the smartphone brands.
This has opened a new problem of selecting an earphone to buy separately. Wired earphones have long been your friend but come with their own problems. The wire can get stretched and cause your earphone prominent damage while it also hampers your movements during exercise. The advent of Bluetooth earphones has more or less solved this problem in a big way. Trending now is the minimalist neckband styled Bluetooth earphones that don't require a wire to connect with your phone.
The problem again here is how to choose the best Bluetooth earphone in your budget. Talking about budget, you can increase your income and add extra cash by playing easy and fun brainstorming games like Video Poker in India. This activity has become very popular in India and is offering a great playing environment that includes other real people to play against. Just click on the website that will let you play poker games involving safe and real cash. Now if you still have an average budget of around Rs.3000, there are still a lot of brands offering aggressive features in the price range. Among many options available in the market, 1MORE is a steeply rising brand that has gained applause from customers and critics alike for its strong, durable, stylish and well-performing wired earphones, the 1MORE piston fit. Now they have launched 1MORE Piston Fit wireless earphones for the wireless earphone lovers. We are going to discuss an in-depth review of the pros and cons of this product and you will probably get an answer to whether 1MORE Piston Fit wireless is the right earphone for you in this budget.
1MORE Piston Fit Wireless Earphones Review
Unboxing
UNBOXING
We got a black coloured review unit of 1MORE Piston Fit wireless which came in a slim cardboard box that had all the features and other details printed on it. While unboxing our review unit of 1MORE Piston Fit wireless, we found the following items in the package:
Piston fit Bluetooth earphones
3 pairs of extra ear tips of different sizes (XS/S/L)
Micro-USB Charging cable
Instructions Manual
Product Catalogue
1MORE sticker
Although 1MORE have covered most of the useful accessories that you would require to operate your earphones, they have missed bundling a carrying case or pouch with the earphones. You would have to keep your earphones hanging onto your neck or keep them in your pocket. The good thing here is that 1MORE Piston Fit wireless is very lightweight and the neckband is basically just a wire that is very flexible to fit in your pocket.
back to menu ↑
Design and Build Quality
1MORE Piston Fit wireless has held on to 1MORE 's now trademark design of a piston shaped earphone with angled earbuds. Sporting an all-black colour, 1MORE Piston Fit wireless have a neckband design in which neckband is essentially a cable that hangs around your neck. Its size will fit most of us perfectly since it's neither too small nor too large. There are 2 modules on either side of the cable. The left side module has the battery fitted inside while the right side has the micro USB port for charging. There's a 3 button in-line remote control on the right side which has the volume rockers and play/pause button that can also help you accept or reject calls. Finally, the right side module has a mic incorporated for calling and recording purposes on the go.
The silicone earbuds of 1MORE Piston Fit wireless are soft on the ears and we didn't experience any discomfort even after wearing them for 3-4 hours. 1MORE has stuck with the aluminium alloy casing on the back of the earbuds that are shaped like a piston. The metal finish gives a premium look and the drivers are kept safely inside it. The front piece that holds the earbuds is made up of plastic which isn't a surprise at this price point. The good thing with the shape of 1MORE Piston Fit wireless is that the earbuds are angled at 45 degrees to your ears that help in a comfortable fit along with ensuring a good amount of noise isolation so that you get an immersive audio experience. The backside of earbuds has a magnet to prevent it from slipping away when not in use. The magnets are a common feature in Bluetooth earphones in this range and 1MORE has followed suit.
The cables have an extra rubber covering for added comfort as well as increasing the durability of the wire. The rubber covering is thick and prevents your earbuds from slipping to either side while running or walking. After all these features, 1MORE Piston Fit wireless weighs a mere 18g which makes it one of the most lightweight Bluetooth earbuds available in India. You won't feel any kind of weight or fatigue even after wearing these earphones throughout the day. This comes in handy when you have to attend calls for long-duration or watching movies.
Talking about durability, 1MORE Piston Fit wireless has an IPX4 rating that offers mild water-resistance from accidental splashes of water and rain showers. You don't need to disconnect or panic during sudden rain, because 1MORE has an IPX4 rating. Although a few other companies are even going as far as providing an IPX7 rating at this price range, I am still happy 1MORE Piston Fit wireless comes with some level of water-resistant rating.
back to menu ↑
Sound Performance
Before reviewing the sound quality of 1MORE Piston Fit wireless, we warmed up the earphones by playing songs for 8 hours. This process is called burn-in and it's recommended to do this to warm up the diaphragm of the driver or make it more flexible. This process helps to eke out the best output from your earphones.
Now coming to the sound quality, the first thing that users ask is how good is the bass. To be honest, 1MORE Piston Fit wireless is a more than decent performer here. It delivers a decent and crisp bass that would excite EDM lovers to an extent. Although the bass would never overpower the vocals in this earphone and the sub-bass is definitely average as compared to expensive earphones from BOSE and others. But the bass is crisp and prevents any kind of bloating. 1MORE Piston Fit wireless would be the perfect choice for listeners who prefer clear vocals and music along with subtle bass in the backdrop. There was absolutely no muddling of sound and the music was crystal clear even in bass-heavy songs. The sound output is excellent and the bass doesn't thump inside your ears which lets you listen for long hours without experiencing pain in the ears.
1MORE Piston Fit wireless has a warm and relaxing mid-range that blends vocals with the music perfectly. It gives a soothing listening experience with crisp and clear lower mids. There's absolutely no over bloating of bass that dominates the other kind of music as seen in other budget earphones. 1MORE Piston Fit wireless will offer you the complete listening experience in this price point.
The highs and treble on 1MORE Piston Fit wireless were surprisingly pleasant. They have been tuned in such a way that 1MORE Piston Fit wireless performed admirably even after we listened to a vast genre of songs including Pop, Rock, R&B, Classical and Indie. To sum it up, you would not be disappointed after listening to any kind of music on these earphones since they deliver very balanced highs, mids and treble. The volume output on 1MORE Piston Fit wireless is fairly good and the voice doesn't get distorted too much at the highest volume. Although the output is not too loud for comfort, we would still recommend you to listen on medium volume to save your ears from damage.
There was very little leakage of sound at high volume output. This means you can listen to your favourite songs on 1MORE Piston Fit wireless even in public places and not worry about disturbing people around you. The mic clarity is also decent with and you get clear vocals without disturbance in the audio quality. The voice was crisp and clear in a good network connection at my home which makes it a good device to take calls and use it for video conferences. Sound isolation is also pretty good on 1MORE Piston Fit wireless giving you immersive listening experience. It's not like ambient sounds aren't audible at all though, which is, in fact, a good thing since you should be aware of your surroundings even while having your earbuds plugged in.
back to menu ↑
Bluetooth and Connectivity
1MORE Piston Fit wireless has packed in Bluetooth 5.0 which ensures a quick connection to your smartphone every time you turn it on. They have a 10m range which helps you listen to songs on your earphones even though your phone is in the other room. These are basic features that are already expected from an earphone at this price. Plus, you can connect 1MORE Piston Fit wireless to your laptop, tablet and other Bluetooth devices.
1MORE Piston Fit wireless automatically turns off when Bluetooth is disconnected which saves battery. It also alerts you of calls by pausing songs by default during an incoming call. You can accept or reject calls using the multifunction button on the right module. The audio quality on calls was good enough to use these earphones for a long, disturbance-free calling session. You can also connect 1MORE Piston Fit wireless to a new device using the volume button on the module.
back to menu ↑
Battery Life
1MORE Piston Fit wireless offers an 8h battery backup on a full charge and the claim was true as we got more than 7 hours of battery backup on constant usage after completely charging the battery. It's an adequate time since you don't use your earphones more than 8 hours in the day and you can easily charge it plugging your charger in the micro USB port given on the right module in just 1 hour. You also get 200 hours of standby time on 1MORE Piston Fit Wireless. It is a pretty decent battery backup although some Bluetooth earphones in this range also offer better battery backups.
back to menu ↑
In-line Remote Features
Turning 1MORE Piston Fit wireless and accessing its features was pretty easy. You just need to press and hold the multifunction button for 2 seconds to turn your earphones on. The LED given on the mic module has a small LED that indicates Power On, Power Off, low battery, Bluetooth pairing and other features.
You can also double click the multifunction button to activate Voice Assistant and long press for 4 seconds to turn off the device. Pressing the multifunction button once plays or pauses music, pressing twice skips the song and pressing thrice skips to the previous song. You can also hold both volume buttons to pair to a new device.
To answer or end calls, just press the multifunction button once. To reject a call, press and hold the button for 1 second.
back to menu ↑
Final Opinion
1MORE Piston Fit wireless is a stylish and lightweight Bluetooth headset with neckband design. It produces one of the best overall sounds at this price range and is also a decent offering to the bass lovers. It's a treat to people who love crisp vocals and soothing music. It has an average battery backup and charges quickly. 1MORE Piston Fit wireless is also durable in terms of build quality and IPX4 water-resistant rating and comes with a 1-year warranty. 1MORE Piston Fit wireless comes with all necessary accessories bundled with it although it doesn't come with a carrying case or pouch. Looking at the vast set of features it possesses along with commendable sound quality, we would definitely recommend 1MORE Piston Fit wireless if you are looking for a Bluetooth earphone under 3000.
back to menu ↑
1MORE Piston Fit Wireless Earphones: Price & Availability
March 31, 2020 7:31 am
Amazon.in
Last update was on: March 31, 2020 7:31 am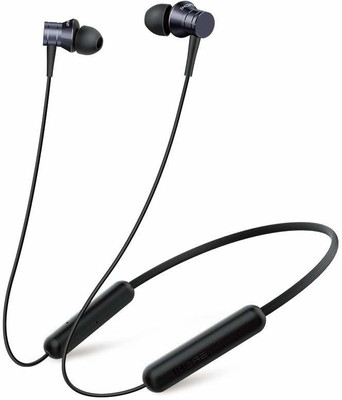 Rs.

2,999

Rs.

3,999
in stock
Flipkart
Last update was on: March 31, 2020 1:04 pm
back to menu ↑
1MORE Piston Fit Wireless Earphones: Expert Score & User rating
1MORE Piston Fit Another decent Wireless Earphone
PROS
Lightweight
Comfortable design, stylish looks
Brilliant sound performance
Crisp & Clear vocals
Just 1-hour charging time
Magnetic snapping system
Bluetooth 5.0
Multifunction button & LED notification
CONS
Doesn't come with a carrying case or pouch
Also, If you are looking for other high-quality Tech reviews or list of best gadgets then google it like "best phones under 10000 topbestof" or "best earphones under 1000 topbestof", "Samsung Galaxy M40 topbestof" or in general "what you want + topbestof".
Hope, you don't have any doubt after going via the 1MORE Piston Fit wireless Earphones with Review, if any question then asks in the comment section.