1MORE Single Driver in-ear headphone: Unboxing, in-Depth Review [Editor Pick]
'More' is a word that everyone like it because it is a word which means 'extra feature or service than other.' Similarly, 1More is the consumer electronic audio company which aims to do more than what other audio companies do in the field of the sound production, & product quality. Surprisingly the company is new but still, it has already won lots of award for its design and sound quality.
We appreciate their work as not that we are reviewing their product but they are really doing well. We have seen efforts of the company as one of its earphones named 1More Piston Fit, ranked 1st in the list of the best earphones under Rs 1000 in India.
Today, We are going to test another 1More product on the people's demand. So, we do the review of the 1More Single Driver in-ear headphone (also known as 1More 1M301 Single driver in-ear headphone with mic). Under this review, we judge the earphone by taking priority sound quality, build quality, comfort, design & price.
The company says that the earphone is tuned by the Luca Bignardi(Grammy award-winning sound engineer) and due to which this earphone is capable of delivering the precise representation of your favorite music. So let's found that does it really stands on the word or not.
Moreover, before we start the review, let us tell you an interesting fact.
Did you Know: Xiaomi's popular piston earphones are designed by the 1More.
1More Single Driver in-ear headphone: Price and Availability in India
1More Single Driver in-ear headphone is priced at Rs 2,799 and it is available on Amazon and 1More's official site.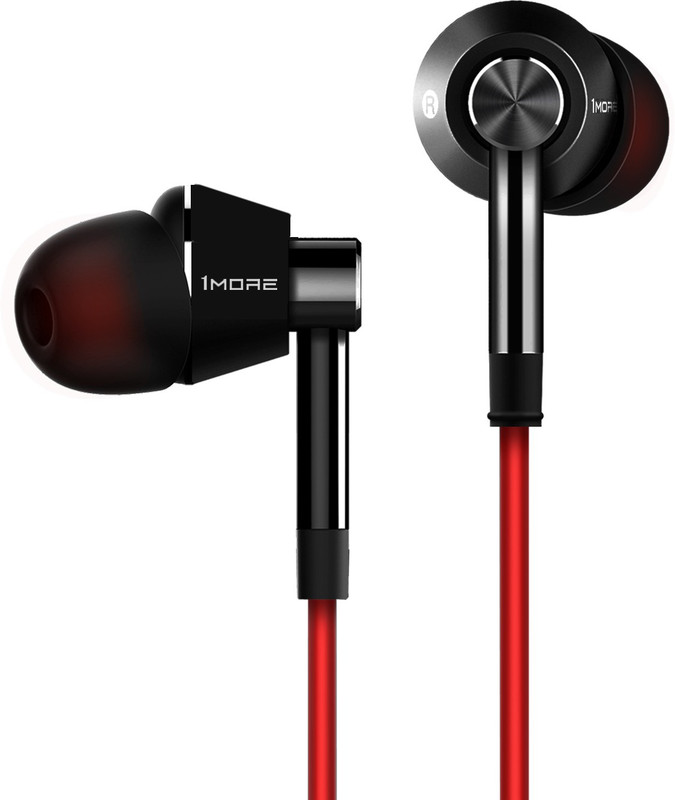 Flipkart
out of stock
as of April 2, 2020 1:15 am
Amazon.in
Create Your Free Price Drop Alert!
Set Alert for 1MORE 1M301 Wired Headphone(Mullti Color, In the Ear) - Rs. 2,799
Now let's move to the 1More 1M301 Single Driver in-ear headphone's depth review.
Unboxing
Let's us tell you that what we found in the box during unboxing it.
1More Single Driver Earphone
Three Extra silicone ear pieces of different sizes i.e., XS, S, and L.
Warranty card that holds 1-year warranty.
One 1More sticker.
One small carry bag.
A shirt metal clip.
A user manual.
Design & Build Quality
If you paid much and didn't get as what you expect like build quality, sound quality, and design, then it feels like money gets wasted out.
However, here in case of the 1More single driver in-ear headphone, you will not feel as such.
The design is pretty good and attractive. The mixture of the red and dark grey color, proper finishing, bright red color fibre-coated cable, earbuds with red core- all of it gives 1More single driver a premium look.
The value of the earphone increases when company added an angled design that fits perfectly into the ear thus increasing noise cancellation. Due to the angled design, the earphone didn't fall off the ear while running or doing any exercise in the Gym. Even the branding has been done well as when you wear this earphone; one can easily notice that you are using 1More's product.
Now if we talk about the build quality of the earphone then one word comes to our mind and that is sturdy (strongly and solidly built).
And coming to the wire quality, the wire from the earphone housing to the metallic finish Y-connect is a thick & quality material used. From the Y-connect to the headphone jack, the wire consists of interior enamelled copper wrapped around Kevlar fibre. Those two types of wire used found in rare earphones and thus this makes it a diversely unique cable & ensures durability in one mass-produced earphone.
Last but not the least the wires are tangle-free so as they do not tangle up when you put it in your pocket.
Also, the company says that their each model go through various tests. Here is the pic of what company says
Sound Experience with 1More single driver
On the first moment when I plugged in, it's sound great I mean 1More earphones are designed to sound great from the first moment they are plugged in because some earphone requires burn-in like Sennheiser CX 213.
Do you know what is "burn-in"? What kinds of headsets need "burn-in"?
New headsets haven't had many adjustments after the factory, so the parameters & diaphragms are not fully stabilized & are not even mechanically flexible. Burn in gives your headset some "training".The sound quality will be improved.
Source:1More
There is an app provided by the company, named 1MORE Smart Burn-in app so as to enhance audio or sound experience and for more tuning. So what I did I use this app to enhance more sound quality so that I can explain you more in-depth & in an accurate way. You can download the app from here or search on play store as '1More assistant'.
Now let's come back to the sound experience of the earphone. Personally, I found it really impressive and good sounding after using burn-in with the "smart burn in-app".
I put the music in full volume & didn't found much loudness or any kind of much hard hitting where the sounds are clear, the bass and treble are well-balanced.The sound produced is rich in details with great comfort.
I have an amazing experience of surround sound feel, I liked it. This earphone probably has the best bass, the bass was really good overall, deep bass is pretty nice, and it won't make you feel pain so that you can use it for a long hearing purpose even at higher volume.
With the suitable size of the ear tip, one can feel adequate soundstaging. The 1More Single Driver does very well when it comes to the vocals, sounds exceptionally clean and vibrant. I found High-resolution audio and the balance are the 2 main areas at which the Single Driver shines.
Mic placement is a bit below to the mouth. I found perfect noise cancellation at the loud sound, but on low sound, there is not much noise being cancelled.
Thus, the audio it produces is for those who love the slight boom bass & treble, not recommend to powerful bass lovers. And you can't go wrong with the price you invest. the sound quality it delivers can be found in expensive earphones.
Our Opinion/Verdict
1More single driver is the best premium look earphones that deliver balanced sound with great comfort, nice deep bass & have excellent build quality by considering all the minor aspect that what other brands fail to do with the price point.
Only the cons that I have come across at low volume you can able to hear outside voices. And if we speak about its competitor then really no one stands near it. Thus, it is the best earphone under Rs 3,000.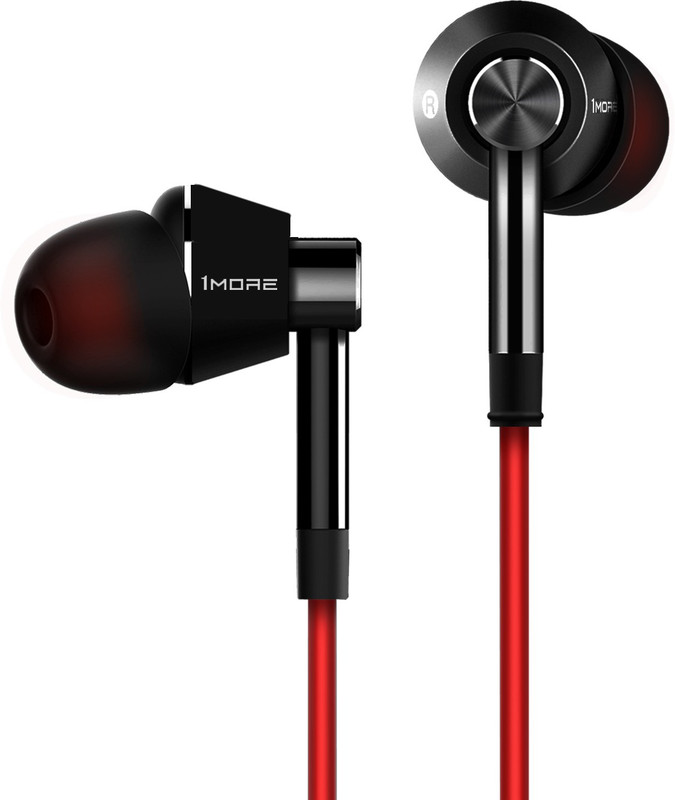 Flipkart
out of stock
as of April 2, 2020 1:15 am
Amazon.in
Create Your Free Price Drop Alert!
Set Alert for 1MORE 1M301 Wired Headphone(Mullti Color, In the Ear) - Rs. 2,799
Key Specification of 1More Single Driver Earphone [Explained]
It has an Impedance of 32 ohms which is good. (If impedance is greater than 25 ohms then it means that this earphone can also be used with a wider range of audio equipment).
It has a Frequency Response of 20Hz -20KHz which is good. (An earphone which comes with wider frequency so one can hear both lower frequency and higher frequency sound. The lower frequency sound includes thump and bass while higher frequency includes shrill and sharp sounds).
Cord length: 1.25m (125 cm)
It is very light and portable i.e., it weighs only 15g. We don't know why at Amazon they show its weight as 18g.
It has a Driver diameter of 8 mm which is good. (More is the driver length, more is the sound quality).
It has a normal Sensitivity value and that is about 98 dB/mW. (The sensitivity range lies within 90-110dB/mW. So lower will be the sensitivity, more secure your ear will be but this doesn't imply that you listen audio for long period.)
Type (balanced armature / dynamic) – Dynamic. The Balance armature is better but costlier than dynamic. The Balance armature is used in the earphone/headphone that cost over Rs 5000.
Inline control button which is compatible with Android and iOS device gives you control over volume, songs selection, and response to calls.
Compatible with laptop/PC/mobile/tab.
Gold plated 3.5mm Jack plug is straight.
Test the Base performance of your in-ear heaphone or Headphone here:

Still, any doubt so feels free to ask via comment.
Thanks for reading. We are waiting to see you again.
Hand Picked other articles: