GST stands for Goods and Services Tax. Inshort meaning of GST- An indirect tax which is applicable throughout India by replacing several taxes which were being charged by Central and State Government. The GST was launched on 1 July 2017 in Parliament's Central halls by our Honourable Prime Minister Shri Narendra Modi and Honourable President Pranab Mukherjee. After getting resources, we have tried to focus on the impact of GST on Smartphone and other gadgets.
Before and after the launch of GST, people are confused with what is it and how it is beneficiary to everyone. Most of thinking what would be its impact on the day to day life. Also, In day to day life Gadgets and technology is an essential part and so it is important to know the impact of GST on Gadgets and Technology.
So today we are here to elaborate on the topic 'GST impact on Gadgets and Technology' and we will also discuss GST benefits or its advantages over Gadgets and technology.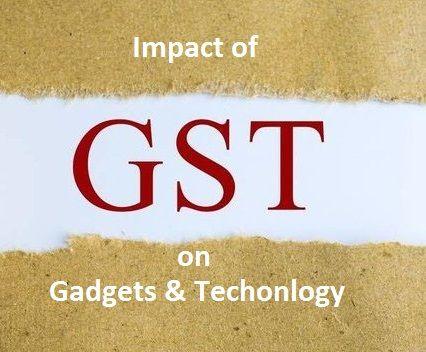 GST Benefits in India 2017
The GST tax rate are divided into 5 slabs and those are 0%, 5%, 12%, 18% & 28%. One should thank Government for GST as it reduces the price of smartphones in the present or coming months. Earlier the tax rate on the smartphone was nearly 13.5% but after the GST implemented, the tax reduced and settled down to 12%.
All the parts and component of the smartphone now comes under 12% tax slab and apart from these, there will be no remarkable change to other wireless services like transmission and reception of voice, communication, images, landline telephones sets or wired connection due to GST came into effect.
If we talk about the smartphones and other electrical goods that are importing from other countries will now get costlier as the Government imposes 10% basic customs duty & indirectly it will be profitable for the Indians.
You will be thinking how? So here is the answer- The Local Manufacturer will get benefited as some foreign company will take help to these manufacturers rather importing any product. Some foreign MNC will think to set up their own manufacturing hub and by doing this, everything will go under 'Make in India' Campaign. All these will bring more job opportunities to common people. Goods that are from Indian Company will also get cheaper i.e., smartphones, accessories & lot more.
GST impact on Laptop and Computer Hardware in India
People who were in the search of laptop and desktop were already thinking of what would be desktop or laptop prices after the GST comes into effect. Earlier, there was a tax rate of 14-15% on laptop or desktop but after GST, it is 18%. Mean, you have to pay the extra price while purchasing Laptop and Desktop.
Thus, it will be a huge economical reform in India as it steps India towards a transparent system and the standardised taxation that might settle down Black money marketing and the corruption.
Thanks for reading. We are waiting to see you again. Don't Forget to Follow us and give your impression on the post via comment.
Hand Picked other articles: