Stuffcool Monty Wireless In-Ear Headphone with Neckband Review: Unboxing with Expert Score
Stuffcool has launched many earphones in recent times. From 2018, Stuffcool is working hard to get stable in the Indian market; that's why they are launching devices rapidly.
Stuffcool is a good known as Indian brand in Mobile accessories.
In last month Stuffcool has launched a new wireless neckband Earphone with the name of Monty Wireless In-ear headphone. Neckband headphone has become a need of common person as they are easy to use and carry due to no wires and light weights. Today we are going to review this neckband headphone and see how this is going to perform with respect to the price tag. We have tested this earphone with every type of songs and calling also for a week so, we will be giving you our honest opinion and detailed review of the product.
Stuffcool Monty Wireless In-Ear Headphone with Neckband Review
Price & Availability
Rs.

1,990

Rs.

2,299
in stock
January 27, 2020 9:07 pm
Amazon.in
Last update was on: January 27, 2020 9:07 pm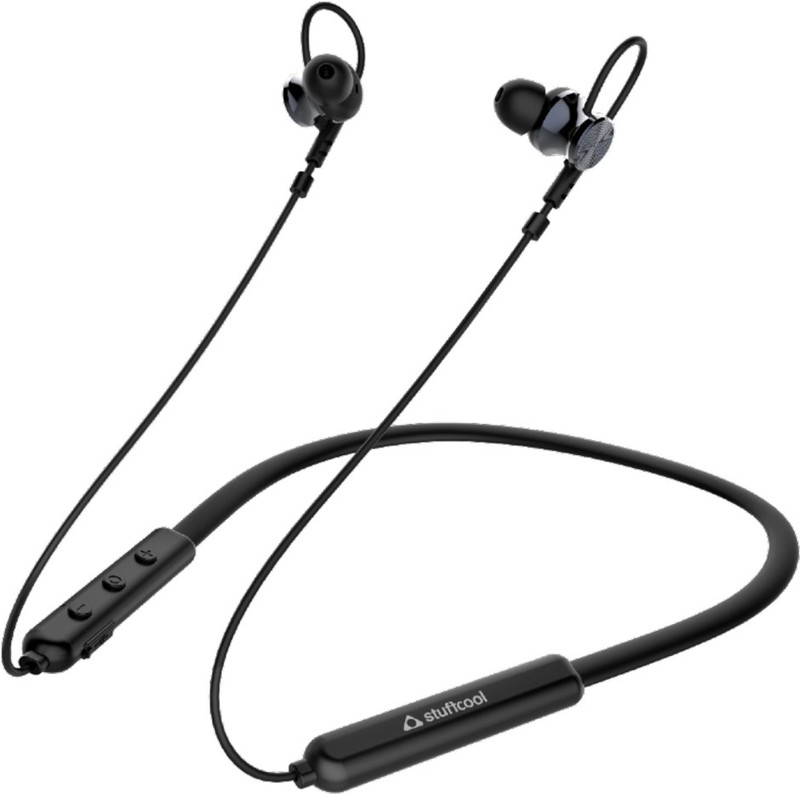 Usually Delivered in 7 - 8 days.
"NECKBAND DESIGN WITH MAGNETIC EAR HEADS: monty is designed with neckband to ensure that the headphone is always on your neck whenever you need it without bothering you much, the ...
10% Instant Discount* with HDFC Bank Cards
Extra 5% off* with Axis Bank Buzz Credit Card
Buy Today
Flipkart
in stock
Last update was on: January 27, 2020 10:18 pm
back to menu ↑
Unboxing
BOX CONTENT
Stuffcool Monty In Ear Wireless headphone with neckband (1 Piece)
2 Extra pairs of ear tips of different size (S, M, and L comes on earphone)
Micro USB charging cable
User Manual
back to menu ↑
Design & Built Quality
Coming to the built quality of the Monty wireless in-ear headphone, this headphone is greatly built with respect to the price tag. Premium quality of plastic has been used to build this headphone. Mainly plastic is used in the built. The neckband is also made of flexible plastic which makes it a good choice for rough users also.
The neckband has a battery module on one side which has a capacity 180mAh whereas another module consists of media playback controls. The battery module is having a Micro USB port for charging it. Where another module has controls including a power switch, volume up and down buttons, and a LED indicator for connectivity and battery indication.
Coming to the design of the Monty In-ear Wireless headphone, this earphone has a premium look as they look awesome and is really a value for money product in terms of all aspects. This earphone is having angled ear tips which increases the stability of the ear tip. These ear tips are very comfortable and are great for long hours.
back to menu ↑
Sound Performance
First and foremost, any device needs some warm-up (burn-in), as this process gradually increase its performance. The warm-up can be done with the help of different genre.
The warm-up is very important for every earphone as after this only your earphone gives its best performance. After burn-in we streamed many many songs as to find the true sound quality of this earphone. We mainly focus on the songs which nearly have all the instruments like such as flute, sitar, guitar, tabla, etc so, which allows us to get an idea about its performance easily. One of the songs played was an Indian version of the James bond by Tushar Lall over this headphone I just loved it as it has highly balanced bass which is great.
In terms of bass, these earphones have just the right amount of bass, neither too low nor too overpowering.
.The sound is really great and has all the good sound characteristics. In terms of sound, this earphone is almost as good as other earphones costing upto 2K. Coming to the vocals we have tested it with plain songs and results are just awesome as vocals are crystal clear. Bass Performance is somewhat average and is not recommended for the bass lover. Lows and Highs frequencies were good, affecting the sound signature.
Also, the sound experience is further enhanced by the included noise cancellation feature. Noise Cancellation is quite good for this price tag, which results in good sound experience without any disturbance. Also, for more better sound experience, choose the right size of the ear tips.
back to menu ↑
Connectivity
Stuffcool Monty Wireless headphone comes with Bluetooth 5.0 which is the latest version of the Bluetooth and provides a working range of upto 9-10 meters. It also allows you to connect two devices at a time which works fine with this Monty wireless headphone. As these earphones come with the latest Bluetooth version, there is a better battery backup because of which these earphones have a playback time of upto 9 hours and stand by time of 45 hours. In terms of connectivity, there is no such issue while using the Stuffcool Monty earphones.
back to menu ↑
Extras
Stuffcool Monty has a battery of 150mAh that last up to 9 hours at the 70% of volume and also notify when a battery is low as there is a LED notification light. The earphones take 2 long hours to get fully charged, earphone offers 8 hour talk time and 45 hours standby time as mentioned by the company.
The neckband is so flexible that you can even fold it and keep in your pocket which add spices to the Monty Wireless Headphone.
back to menu ↑
Final Opinion
If you are a person who cares about the design and builds quality then this earphone is for you. Its fitting and comfort will surely win your heart. The Sound performance is quite good and noise cancellation is best of its class where low bass is the only slight issue with these earphones. Bass is well balanced and is not on the heavy side. A person who loves well-balanced bass will love this earphone whereas if you are a heavy bass lover then you must go for other headphones.
Stuffcool is a good choice if you are looking for an earphone with the expectation of good build quality, vocals, balanced freq(highs, lows, mids) and connectivity. This light-weighted earphone comes with comforts and good build quilty. Also, the connectivity is good on Stuffcool Monty Wireless.
Also, If you are looking for other high-quality Tech reviews or list of best gadgets then google it like "best phones under 10000 topbestof" or "best earphones under 1000 topbestof", "Samsung A80 topbestof" or in general "what you want + topbestof".
back to menu ↑
Review [Expert Score]
PROS
Clear and Smooth Sound
Noise Cancellation is best in its Class
Build Quality is very Good
Magnetic Join
CONS
IP Rating not mention
Average Bass
Hope, you don't have any doubt after going via the Stuffcool Monty Wireless In-Ear Headphone with Neckband Review, if any question then ask in the comment section.