1MORE iBFree Sport Bluetooth in-Ear Headphone 2018: Full Review
Great Sound Clarity
Eye-Catching design
Comfortable fit
Stellar Battery Life
Compatible with Android and iOS devices
Solid Build Quality
Punchy & Better Bass
IPX6 water resistance
Wide SoundStage
1MORE iBFree Sport Bluetooth Earphone Review
1MORE, a company well known for its audio product especially 1MORE's triple driver, quad driver and 1MORE Single Driver (Review), recently releases the new pair of wireless earphone, 1MORE iBFree Sport.
1MORE iBFree Sport in-ear headphone is the successor to 1MORE iBFree which was launched last year. The Company claims that 1MORE iBFree Sports earphone is way better than its predecessor in terms of Sound Quality, Battery Life, Bluetooth Version and Water Resistance Rating.
Xiaomi's Piston series earphones are designed by the 1MORE.
This iBFree sports comes with Bluetooth 4.2 over the iBFree's 4.1, an IPX6 rating compared to the IPX4 on the previous model. 1MORE claims that every earphone or headphones including this iBFree Sport in-ear headphone, are tuned by Grammy Winner Sound Engineer Luca Bignardi. So, Let's check out with 1MORE iBFree Sport Bluetooth Earphone Review and know whether this pair of the earphone is worth a buy or not.
1MORE iBFree Sport Bluetooth Earphone Review
Unboxing
BOX CONTENT
1MORE iBFree Sport in-ear Headphone (1 Piece-2018 model)
2 extra pairs of ear tips of different size (S, M)
2 extra pairs of sporty fins(c-shape outcoming)
a USB charging cable
a User Manual
back to menu ↑
Design & Built Quality
The 1MORE iBFree Sport has a neckband style design and is fairly light and comfortable to wear for long hours. A Black and Grey combination is brilliant and gives a premium look to the earphone. It has an oblique angle and curvy design increase its value to another level. With this oblique angled design, it fits perfectly within our ears, even increase the noise cancellation to some extent.
Also, it is far lighter than our lastly reviewed Boult Audio's Neckband Curve Earphone (review). It has been coated with Nano waterproofing, IPX6 water resisting rating, that protects the device from any liquid makes it great company for your tension-free vigorous workout sessions. Its predecessor which comes with the IPX4 can only resist sweat and splashes, this iBFree comes with the IPX6 water resisting rating can resist even water drop or water submersion.
Using this in-ear headphone for a long time is no issue, and even you can change the size of the ear tips and sporty fins. The earphones did not slip out while running or jogging, thanks to small silicone hooks. Thus, the combination of ear fitting and IPX6, making this 1MORE iBFree earphone, a truly sporty earphone. Following is the image of Ear tips and sporty fins that comes along with this earphone.
The inline remote and microphone are relocated near the right earpiece, so as to easily get control over the audio or call. The inline remote lets you control the volume, choose between songs and even take calls. This 1MORE device is compatible with any Android and iOS device. The USB port is present on the inline remote with a cover.
It has an attractive and sturdy body of textured Aluminium and thick wire to make it long lasting.
back to menu ↑
Sound Performance
First and foremost, any device needs some warm-up (burn-in), as this process gradually increase its performance. The warm-up can be done with the help of '1MORE Assistant app', that you can get from Google's Play Store.
After the warm-up, the device is good to go. We streamed many popular Hindi, Punjabi, & English song of various genres(Metal, Rock, Classical, Pop etc) and it was a great experience. 1MORE was improved over the Bass performance. Bass Performance is more efficient than the predecessor one. It is punchy, controlled, & well-balanced and bring more life to the audio.
One of the songs played was an Indian version of the James bond by Tushar Lall over this sports in-ear headphone, which has various instruments(such as flute, sitar, guitar, tabla,etc.). After testing earphone on this song, 1MORE iBFree has remarkably good soundstage. Lows and Highs frequencies were good but mids were dim to bit extent and affecting the sound signature. We didn't like the treble, it was some hard.
Also, the Sound experience depends on the noise cancellation. Noise Cancellation is good and thanks to its ergonomic shape, that lead to good sound experience without any disturbance. Also, for more better sound experience, choose the right size of the ear tips.
back to menu ↑
Bluetooth and aptX Coding
Packed with the better Bluetooth version i.e; Bluetooth 4.2v, that provide greater signal and has a Bluetooth range upto 35 ft (approx 10.6 meters). This is not the end, 1MORE integrate aptX coding technology (Qualcomm's technology) with iBFree Sport earphones to provide original sound experience to you. Also, the company has moved the antenna from the earbuds to the control module. The company claims these changes improve connectivity. And Yes, the connectivity was very good.
back to menu ↑
Extras
1MORE iBFree Sport has a battery of 60mAh that last upto 8-9 hours at the 70% of volume and also notify when a battery is low. The inline Mic quality is clear and good. And the remote is a help to control music without having to access the phone every now and then.
back to menu ↑
Final Opinion
In the market, you will get an earphone with the 'sport' tag and that even half the price of the iBFree Sport but you will miss out the audio performance, water resistance level, and more. 1MORE iBFree sport earphone 2018 model is a very good choice under 3000, where as buying these pair of earphone at the launch price is not a good option. This earphone delivers the clear sound, punchy and improved bass, good soundstage, & comfortness for long hours. It sturdiness ensure that you can use it most rough conditions. Except few corners like mids, sound signature & treble, this earphone is the best choice under 3000.
back to menu ↑
1MORE iBFree Sport Bluetooth Earphone: Price & Availability
Rs.

2,999

Rs.

3,999
in stock
April 9, 2020 10:08 pm
Amazon.in
Last update was on: April 9, 2020 10:08 pm
amazon.in
Last update was on: April 9, 2020 10:08 pm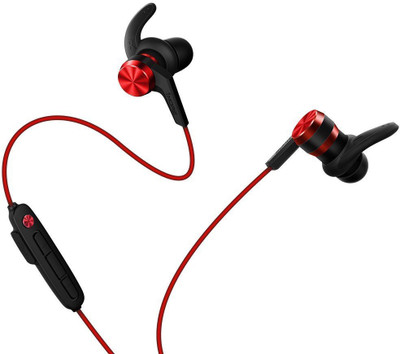 Usually Delivered in 7 - 8 days.
5% Unlimited Cashback on Flipkart Axis Card
10% off* with Axis Bank Buzz Credit Card
Usually Delivered in 7 - 8 days.
5% Unlimited Cashback on Flipkart Axis Card
10% off* with Axis Bank Buzz Credit Card
Last update was on: April 10, 2020 12:49 am
Gearbest
gearbest.com
Last update was on: April 2, 2020 12:36 am
back to menu ↑
1MORE iBFree Sport Bluetooth Earphone: Expert Score & User rating
1More iBFree Sport: Sits on top of Best Wireless Earphones under 3000
Value for Money (Under 3000)
9
PROS
Great Sound Clarity
Eye-Catching design
Comfortable fit
Stellar Battery Life
Compatible with Android and iOS devices
Solid Build Quality
Punchy & Better Bass
IPX6 water resistance
Wide SoundStage
CONS
Dim Mids
Harsh treble
Average Sound Signature
Hope, you don't have any doubt after going via the 1MORE ibfree bluetooth in-ear sport headphones review , if any ask in the comment section.
Also, If you are looking for other high-quality Tech reviews or list of best gadgets then google it like "best phones under 10000 topbestof" or "best earphones under 1000 topbestof", "FiiO F3 Dynamic topbestof" or in general "what you want + topbestof".
Did you love 1MORE's earphone, then check out the other product from 1MORE with Detailed Review:
Test the bass performance of your earphone or headphone here with this video-